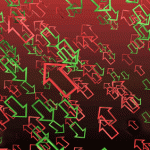 Traders became 'ultra'-aggressive in their ETF allocations last week.
ETF fund flows are a valuable indicator of what traders are thinking.  It takes a lot of buying or selling to drive millions or even billions of dollars into or out of individual ETFs.
Fund flows are something traders use to find trends and gauge investor sentiment.  And it can help you pinpoint which ETFs could be next to make a big move higher or lower.
Two leveraged ETFs were near the top of the funds with the most net inflows over the last week.  ProShares Ultra Russell 2000 (UWM) added $1.6 billion in assets while ProShares Ultra S&P 500 (SSO) added $1.4 billion in assets. 
The ProShares line of Ultra ETFs are leveraged ETFs.  They're designed to return twice as much as the index for a single day.  In other words, when the Russell 2000 or the S&P 500 go up 1% in a day, UWM or SSO will go up 2%.  However, if the index goes down 1% in a day, then the ETF will go down 2%.
Needless to say, the large inflow of money into UWM and SSO is a bullish bet on more upside for stocks.
The large inflow of money into aggressive leveraged ETFs was complimented with a large outflow of money from Treasury ETFs. 
The two ETFs with the most outflows over the last week were iShares 1-3 Year Treasury Bond (SHY) that lost $3.8 billion and iShares 3-7 Year Treasury Bond (IEI) that lost $3.5 billion. 
SHY and IEI had seen their assets swell in recent weeks as investors sought out a safe haven as the risk of war between Russia and Ukraine grew.  The outflow of money is a clear indication investors are now less focused on any risk these events pose to the stock market.  
It's not surprising to see asset flows in leveraged ETFs and Treasury Bond ETFs moving in opposite directions.  Stocks and bonds typically move in opposite directions. 
Right now it's safe to say these asset flows are indicating the bull market for stocks still has plenty of gas in the tank. 
That wraps up this week's ETF fund flows…
Keep in mind, there's a lot of information about ETF fund flows.  And it can be a very useful tool as long as you know what you're looking for.
Good Investing,
Corey Williams
Category: ETFs, Market Analysis