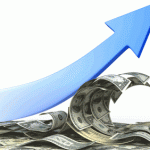 Back in October, I pointed out that the US Dollar was going through its fourth long-term trend change in the last 20 years.  
At the time I said, "The most popular US ETF to play a bullish uptrend in the US Dollar is the PowerShares DB US Dollar Index Bullish Fund $UUP. This ETF has about $713 million in assets.
At a current price of $23.06, $UUP is up about 5.8% year-to-date and it's 9.1% above the 52-week low. And it has the potential to increase another 30% to 40% during the next uptrend."
Take a look at what's happened to the US Dollar since then…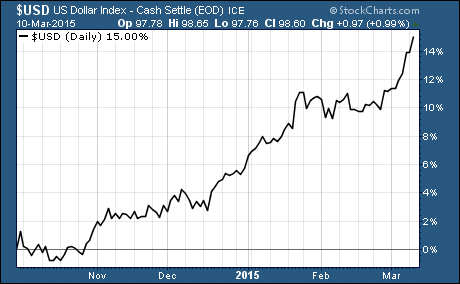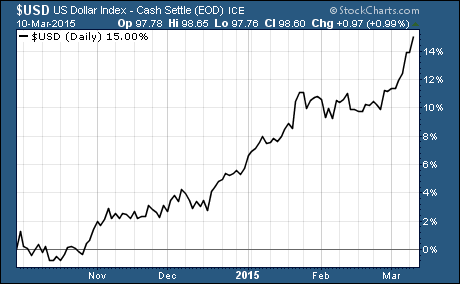 As you can see, the dollar has shot up 14% since then.
What is a US Dollar ETF?
A dollar ETF is an exchange traded fund.  Its goal is to replicate the movement of the dollar in the foreign exchange markets.
It does this by holding currencies directly or through currency-denominated short-term debt instruments.
Most popular dollar ETF
There are currently five ETFs that track the US Dollar.
The most popular is $UUP that I mentioned back in October.  Since then, the assets in $UUP have swelled from $713 million to $1.3 billion.  That's an increase of 80%!
Clearly there have been a lot of investors that have jumped on the bullish dollar bandwagon.
Where do dollar ETFs go from here? 
Right now the US Dollar and dollar ETFs are riding the initial surge to a new long term uptrend.
This uptrend is being driven by technical price action as well as fundamentals.
It's no secret that the US economy is much healthier than the economy in Japan, Europe, or any place else these days.
That strength is attracting foreign investment into the US.  It's also accelerating the time table for the first US interest rate hike since the 2008 financial crisis.
Both of these will continue to push the dollar higher.
As I pointed out in October, the dollar ETF $UUP had the potential to climb 30% to 40% in this new bullish uptrend.  So far the dollar is up 14% and there's still room for more profits to be had.
Good Investing,
Corey Williams
Note: Corey Williams writes and edits ETFTradingResearch.com.  Sign up for our free ETF reports and free e-letter at http://etftradingresearch.com/free-sign-up. We're devoted to helping you make more money from ETFs.
Category: Currency ETFs