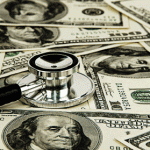 Investors may have been surprised to see 15 of ProShares leveraged ETFs share price sinking or soaring on Monday.  But don't worry, these ETFs didn't go haywire. 
ProShares planned the split of seven ETFs and a reverse split of eight other ETFs. 
These splits and reverse splits do not change the value of a shareholder's investment.  Splits simply increase the number of shares and reduce the share price.  And on the other hand, reverse splits increase the price per share with a proportionate decrease in the number of shares.
Many people familiar with trading stocks can overreact when they hear about an ETF going through a reverse split.
In short, a reverse split is a huge red flag for stock investors.  We'll typically only see a stock undergo a reverse stock split when things are going poorly for the company and the stock price has undergone a steep drop. 
Companies will often resort to a reverse split to boost their stock price as a last ditch effort to avoid being delisted or kicked off an exchange.  And it's usually a sign of more trouble to come.
But there's nothing so sinister about a reverse split among ETFs.  Don't forget, ETFs aren't in danger of failing in the same way as the stock of an individual company.
When an ETF undergoes a split or reverse split, it's a matter of maintenance. 
ProShares is simply trying to keep the share price of their ETFs in a price range that makes trading them as efficient as possible. 
Don't forget, leveraged ETFs are trading vehicles.  They're not meant to be held as long term investments.  So they need to be priced to be traded as efficiently as possible.
The bottom line is splits and reverse splits aren't unusual and they make ETFs more efficient for traders.
Here are the seven ETFs splitting 2-for-1…
ProShares Ultra Consumer Goods ETF (UGE)
ProShares UltraPro S&P 500 ETF (UPRO)
ProShares UltraPro MidCap400 ETF (UMDD)
ProShares Ultra Russell3000 ETF (UWC)
ProShares Ultra Health Care ETF (RXL)
ProShares Ultra Consumer Services ETF (UCC)
ProShares UltraPro Russell2000 ETF (URTY)
 And eight ETFs that underwent reverse splits…
ProShares Ultra VIX Short-Term Futures ETF (UVXY), 1-for-10
ProShares VIX Short-Term Futures ETF (VIXY), 1-for-5
ProShares UltraShort DJ-UBS Natural Gas ETF (KOLD), 1-for-4
ProShares UltraShort Oil & Gas ETF (DUG), 1-for-4
ProShares UltraPro Short Financials ETF (FINZ), 1-for-4
ProShares UltraPro Short 20+ Year Treasury ETF (TTT), 1-for-4
ProShares UltraShort Russell1000 Value ETF (SJF), 1-for-4
ProShares UltraShort MSCI EAFE ETF (EFU), 1-for-4
Good Investing,
Corey Williams
Category: ETFs, Leveraged ETFs, What's Going On?