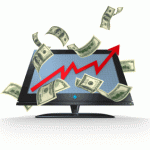 There isn't much to write home about S&P 500 performance in Q1 of 2015… the large cap index is essentially flat for the year.
We have seen some interesting peaks and valleys in the markets recently.
First off, there's crude oil and the US Dollar.  These two have been moving in opposite directions for months now.
Last week seems to have marked a peak in the US Dollar and a valley in the crude oil prices.  The US Dollar made a new 52-week high and crude oil hit a new low of $42.41 before abruptly reversing course.
The US Dollar has endured a big drop while crude oil prices have rallied over the last week.
We also had market volatility, as measured by the VIX, collapse to the lowest levels of the year.  This is a clear indication of bullish investor sentiment.  Options traders are buying far more call options than they are put options right now.
We also saw small and mid-cap stocks climb to new all-time highs.  We typically see these stocks outperforming large cap stocks when investors are bullish.
However, despite these bullish indicators, we've seen bullish investor sentiment tumble lower in recent weeks.
In fact, many of indicators of short term market momentum that I follow have been sending mixed signals lately.  So, it's no surprise to see a sharp selloff and the spike in volatility that came with it.
My guess is all of the repositioning investors did over the last few months to profit from a strong US Dollar, rising interest rates, and falling oil prices started to unravel as these trades moved against them.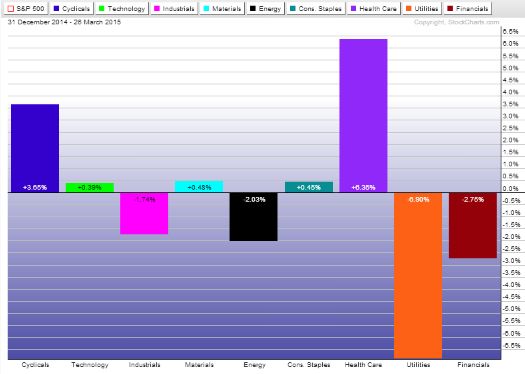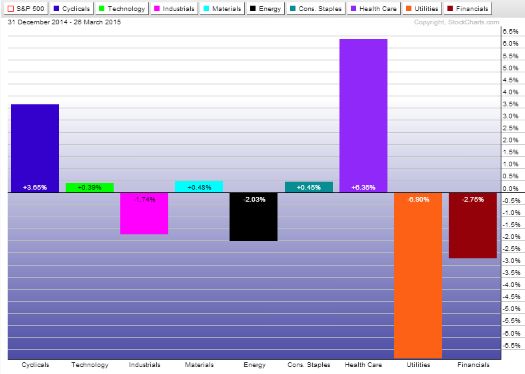 Best Sector ETFs In Q1
Healthcare and consumer cyclicals are the big winners for Q1. Healthcare stocks were up 6.35% while consumer cyclicals posted a 3.65% gain.
It's no surprise that these sectors benefit the most from cheap oil.  Consumers have money to spend on healthcare and extras because they're spending less money at the gas pump.
What's more, their sales are concentrated in the US.  So, they're not dealing with the headwinds from the strong US Dollar.
Worst Sector ETFs In Q1
Utilities were far and away the worst performing sector in Q1.  The 'safe sector' that most reflects bonds because of their steady dividend payments was down 6.9%.
The poor performance for this safe sector is clearly being driven by interest rates.
Investors are anticipating the first rate hike from the Fed… when interest rates go up, the dividends utilities stocks pay become less attractive to investors.
We also saw weakness from financials, energy, and industrials in Q1.  Again, the strong US Dollar, weak oil prices, and interest rates are to blame.
What Sector ETFs Are The Best ETFs For Q2 2015? 
After an up and down first quarter for the S&P 500, many investors are moving to the sidelines.  They see weaker than expected economic growth.
What's more, the bullish predictions many investors had for stocks to start the year haven't worked as expected.
According to Bank of America Merrill Lynch, US equity funds have had a massive $10.8 billion outflow over the last week.
Needless to say, this is a lot of capital waiting to be redeployed.  And it's not going to stay on the sidelines for long.
I think this money is going to find its way into the tech sector.  Large cap tech stocks are brimming with cheap stocks and many have mountains of cash they can use to grow their business or return money to shareholders.
Good Investing,
Corey Williams
Note: Corey Williams writes and edits ETFTradingResearch.com.   Sign up for our free ETF reports and free e-letter at http://etftradingresearch.com/free-sign-up. We're devoted to helping you make more money from ETFs.
Category: Market Analysis