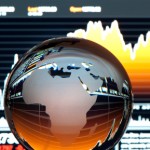 There's only a few days left to trade ETFs in March.  We're taking a look at the March ETF fund flows and other sentiment indicators for clues to the markets' next move.
ETF fund flows are a valuable indicator of what traders are thinking.  It takes a lot of buying or selling to drive millions or even billions of dollars into or out of individual ETFs.
Fund flows are something traders use to find trends and gauge investor sentiment.  And it can help you pinpoint which ETFs could be next to make a big move higher or lower.
The emotion driving March ETF Fund Flows…
We monitor several fundamental and technical indicators of fear and greed.  Right now, many of these indicators are sending mixed signals.
Overall stock prices are strong.  There are more stocks hitting new 52-week highs than stocks hitting 52-week lows and volatility is low.  These are indications that there isn't much fear in the market.
At the same time, we've seen demand for bonds outpace demand for stocks.  We've also seen the market lose some of its bullish momentum over the last week.
It's safe to say neither fear nor greed has a strong grip on the market right now.
The ETFs with the largest inflows in March… 
ETFs that hold European stocks are leading the way in net inflows in March.
Amazingly, three of the top four ETFs in net inflows this month are focused on European stocks.  In total, they collected more than $9.3 billion in net inflows.
WisdomTree Europe Hedged Equity $HEDJ is leading the way with $4.7 billion in net inflows in March.
HEDJ tracks an index of dividend-paying companies in the Eurozone.  These companies generate the majority of their revenue from exports.
This ETF is hedged against the euro for US investors.  So, currency volatility doesn't hurt the performance of this ETF.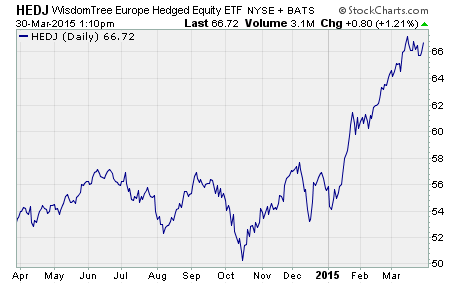 This is the second month in a row that HEDJ has found itself among the top asset gaining ETFs.  In total, HEDJ has collected $7.2 billion over the last two months.
Investors are clearly interested in investing in European stocks right now.  And hedging out the currency volatility is a great way for US investors to get the true performance of European equities.
The ETFs with the largest outflows in March…
The strong inflows into European stock ETFs certainly pulled in some fresh capital.  But it also stole money from other areas of the market.
Three areas that were hit by large outflows in March were large cap US stocks, emerging market stocks, and gold.
The SPDR S&P 500 $SPY led all ETFs with $2.5 billion in net outflows.  iShares MSCI Emerging Markets $EEM had $2.2 billion in net outflows.  And SPDR Gold $GLD has $1.3 billion in outflows.
Right now, neither fear nor greed is dominating investors' actions.
However, investors are clearly reacting to the recent actions from the European Central Bank.  The ECB is embarking on a course of easy monetary policy similar to what the Fed did a few years ago here in the US.
And we all know that those actions were very beneficial to US stocks.  If the ECB actions have a similar result in Europe, it could spark a period of outperformance for European stocks.
Good Investing,
Corey Williams
Note: Corey Williams writes and edits ETFTradingResearch.com.   Sign up for our free ETF reports and free e-letter at http://etftradingresearch.com/free-sign-up. We're devoted to helping you make more money from ETFs.
Category: Market Analysis