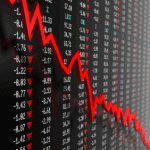 As I'm sure you've noticed, the S&P 500 is in the midst of a five day losing streak.  The longest such streak since the large cap index dropped for five consecutive days from September 19th to the 25th.
The recent selloff was sparked by better than expected economic data.  In the bizarre world we live in, good economic news is perceived as bad for stocks. 
It's simple really.  The stronger the economy gets, the more likely it becomes the Fed will cut off their monetary stimulus.  And the latest data has investors worried about the Fed beginning to taper as soon as later this month.
The selloff has hit the Financial Select Sector SPDR (XLF) the hardest of all sector ETFs this week.  XLF is down 2.6% from its high of $21.64.
Do financials deserve to be the worst performing sector or is this selloff a buying opportunity? 
First, let's take a closer look at what stocks XLF holds…
XLF is one of nine Select Sector ETFs that in total includes all 500 of the stocks in the S&P 500.  XLF holds 82 stocks that fall into the financial sector.
The top holdings are JPMorgan Chase (JPM) 8.17%, Wells Fargo (WFC) 8.13%, Berkshire Hathaway Class B Shares (BRK.B) 8.05%, Bank of America (BAC) 6.45%, and Citigroup (C) 6.04%.
As you can see, XLF is dominated by the large banks.  Nearly a third of the ETF is big banks.  So this ETF is really a story about where the big bank stocks are going.
Right now, big banks are coming off of a quarter that saw profits shrink dramatically compared to the previous year.  But the reason why they were down is more important than how much they were down.
You see, profits took a hit because big banks were hit with huge fines for mistakes they made before and during the credit crisis.  It has nothing to do with the way they are operating today.
In other words, these hits are likely a one-time hit and not likely to be repeated in the future.  In fact, if you look at the revenue the big banks are generating, they're actually growing their business.
And here's the best part about big banks.  Their operations are global, not just here in the US.  So they stand to be one of the biggest beneficiaries from accelerating global economic growth.
The way I see it, annual profits among big banks are in line to grow at better than 30% in 2014.  And that growth still isn't accounted for in the current stock price.
Here's the upshot…
XLF was the worst performing sector over the last week.  But the fundamental story for a big chunk of XLF's holdings is outright bullish for 2014.  This is one ETF that's worth buying on weakness.
Good Investing,
Corey Williams
Category: ETFs, Sector ETFs