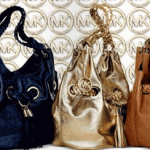 Mother's Day is just around the corner. And my wife has made no secret of exactly what she wants… Like many women around the world, she has been coveting a Michael Kors (KORS) handbag.
Kors is a relatively new brand compared to companies like Gucci and Louis Vuitton. However, it has become increasingly popular due to its high fashion and relatively lower prices.
This entry-level luxury brand is more affordable, but the purse she has her eye on costs $300. Really?!? I have to ask…how can someone 'need' a new $300 purse every year? Do these things have an expiration date?
The bigger question is, should you be investing money to this hot luxury brand?
Apparently my wife isn't the only one who likes Michael Kors. This high flying momentum growth stock has shot up 63% over the last year.
As I'm sure you've heard, many high flying momentum stocks have been crushed over the last few months. But not KORS, it's down just 6.8% from the 52-week high.
What's more, we know from past experience that luxury brands do well when the stock market is up. People have money to spend because their investment accounts have gone up in value. And the reality is stocks are up huge over the last few years and people that have invested money feel wealthier today than they did a few years back.
Despite my reluctance to spend $300 on a purse, I'll end up buying it for her. As they say… happy wife, happy life. And I'll try to offset the loss by investing in an ETF holding KORS.
Let's take a look at three ETFs holding the KORS…
Power Shares Dynamic Retail ETF (PMR)
PMR is an ETF that currently has Michael Kors (KORS) in its holdings. At a current price of $33.25, it is up 1.41% over the past two weeks and 142.88% on a 5-year investment.
The Power Shares Dynamic Retail Index is made up of stocks of U.S. retail companies. The index is designed to comprise of investments based on their investment merit criteria, including investment timeliness and risk factors.
PMR currently holds 32 stocks and has an expense ratio of .60%. It has a dividend yield of 0.83%.
PMR contains all U.S. stocks in the Consumer Cyclical, Consumer Defensive, Industrials, and Basic Materials sectors.
In addition to KORS, this ETF holds other large U.S. companies such as Kroger Co. (KR), Macy's Inc (M), and Walgreen Co. (WAG). KORS is in its top ten holdings with 4.75% invested.
ISE Chindia Index Fund (FNI)
FNI is another ETF that is invested in KORS. With a current price of $27.71, it is up 29.52% on a 1-year return and 117.99% on a 5-year return.
The ISE Chindia Index Fund is a non-market capitalization weighted index of 50 ADRs and/or stocks that are based in either China or India and whose shares are listed on a U.S. securities exchange.
FNI currently holds 50 stocks and has an expense ratio of .60%. It has a dividend payout of .99%.
The majority of FNI's holdings are International stocks with the other 9% invested in U.S. companies. The top holdings include companies such as Qihoo 360 Technology (QIHU), Infosys (INFY), and KORS with a 7.38% stake.
Guggenheim S&P 500 Pure Growth ETF (RPG)
RPG is another ETF holding KORS stock. It has a current price of $71.97 and is up 27% on a 1-year return. It has a great 5-year return of $196.38%.
The S&P Pure Growth Index is narrowly focused and contains only S&P companies with strong growth characteristics.
It currently holds 109 stocks. It has an expense ratio of .35% and a dividend yield of .52%.
RPG holds some major companies in the U.S. retail market such as Chipotle Mexican Grill, Inc. (CMG), Safeway Inc. (SWY), and Netflix Inc. (NFLX). KORS is in its top ten holdings with 1.81% of its total assets.
Here's my advice…
If your wife is as good of a mom as mine, this Mother's Day treat her to that special Michael Kors handbag. Then invest some money in an ETF holding KORS so you can pay for next year's bag with profits from your investment.
Good Investing,
Corey Williams
Category: ETFs, Sector ETFs