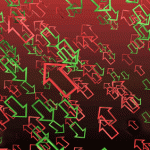 It's May and you know what that means….
The Wall Street adage 'Sell in May and go away' is on investors' minds.
The month of May kicks off a six month period that historically is the markets' worst performing period of time. And looking at the recent ETF fund flows, it looks like investors are selling stocks and buying Treasuries.
These fund flows are a valuable indicator of what traders are thinking. It takes a lot of buying or selling to drive millions or even billions of dollars into or out of individual ETFs.
Fund flows are something traders use to find trends and gauge investor sentiment. And it can help you pinpoint which ETFs could be next to make a big move higher or lower.
Once again, the SPDR S&P 500 (SPY) led all ETFs with more than $2 billion in net outflows. It's the third week in a row SPY has had net outflows that topped $2 billion. The three week total is now $6.6 billion.
What's more, many other broad based US stock ETFs are also experiencing large outflows of their own. In total, more than $2 billion came out of the Technology Select Sector SPDR (XLK), iShares Russell 2000 (IWM), ProShares Ultra Russell 2000 (UWM), and PowerShares QQQ (QQQ) last week.
Needless to say, these outflows are indicative of investors heeding the sell in May and go away adage.
As investors flee US stock ETFs, they're moving money into the ultimate safe haven… US Treasuries. Last week $1.8 billion flowed into iShares 7-10 Year Treasury Bond (IEF) and another $450 million landed in ProShares Ultra 7-10 Year Treasury (UST).
The flight to safety is another indication investors are wary of a stock market selloff.
These fund flows are especially troublesome given the recent economic data. US employers added 288,000 jobs in April – the largest monthly gain in more than two years – and the unemployment rate dropped to 6.3%.
It's unusual to see good economic data brushed aside by investors. If good economic news doesn't bring investors into US stock ETFs, what will?
At this point, investors are taking a cautious approach with their investments. And I can't blame them. After 31 months without a 10% correction among the major US stock indexes, we're overdue for a correction.
That wraps up this week's ETF fund flows…
Keep in mind, there's a lot of information about ETF fund flows. And it can be a very useful tool as long as you know what you're looking for.
Good Investing,
Corey Williams
Category: ETFs, Market Analysis