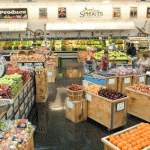 It seems like every decade has a new diet craze.
In the eighties, we weren't allowed to eat calories. In the nineties, fat-free was the trick. When we entered the 21st century, we saw the Atkins craze.
Now in 2014, the clean eating, organic, locally produced food is what everyone talks about. Whole Foods (WFM) is one grocery store that has catered to this market. But its recent lackluster performance has me wondering if the stock is worth buying at these depressed levels.
And it's not just Whole Foods that's taken a beating lately. Another grocery store that has seen a big selloff lately is Sprouts Farmers Market (SFM).
Sprouts operates a chain of grocery stores that seeks to be more of a farmers market. They specialize in fresh fruits and vegetables, with a large organic selection at affordable prices.
The organic food lifestyle is one that's here to stay. ETFs with Sprouts and Whole Foods have an opportunity to outperform as they bounce back from their recent selloff.
Let's take a look at 3 ETFs that are holding Sprouts Market…
Vanguard Mid-Cap ETF (VO)
VO is an ETF that currently has Sprouts Market (SFM) in its holdings. With a current price of $112.15, it has a strong 1-year return of 18.41% and a great 5-year return of 154.01%.
This Mid-Cap Index represents mid-capitalization companies in the U.S. equity market.
VO currently holds 378 stocks and has a low expense ratio of 0.10%. It has a dividend payout of 1.15%.
VO contains a majority of U.S. stocks with only 3% in foreign investments. It holds companies from all sectors with a majority in the Consumer Cyclical, Technology, and Industrials.
In addition to Sprouts Market, this ETF holds other popular mid-size companies such as Chipotle (CMG), Delphi Automotive (DLPH), and Western Digital (WDC).
Vanguard Large Cap Growth ETF (VUG)
VUG is another ETF that is invested in Sprouts Farmers Market. With a current price of $93.18, it is up 1.36% on a 4-week return, and has a positive 1-year return of 18.08%.
The Vanguard Growth ETF is a broadly diversified index of growth stocks with a majority in large U.S. companies.
VUG currently holds 378 stocks and has an expense ratio of .10%. It has a dividend yield of 1.23%.
VUG holds several U.S. corporate giants. Their top holdings are invested in Apple (AAPL) and with Apple's newest acquisition of Beats Headphones, this stock is surely to see even more gains in the upcoming months. VUG also has shares of Coca-Cola (KO); who doesn't love an ice-cold can of Coke? They also have holdings in Walt Disney (DIS), Google (GOOGL), and Amazon.com Inc (AMZN).
SPDR S&P Retail Select ETF (XRT)
XRT is another ETF holding SFM stock. It has a current price of $81.80 and is up 11.13% on a 1-year return. Even more substantial gains can be seen on a 5-year return of 205.09%!
The S&P Retail Select Industry Index represents retail sub-industry portion of the S&P TMI. The S&P TMI tracks all the U.S. common stocks listed on NYSE, NASDAQ, and AMEX.
XRT currently holds 104 companies. It has an expense ratio of .35% and a dividend payout of .72%.
XRT holds all U.S. stocks with a majority of its holdings in the Consumer Cyclical, Consumer Defensive, and Technology sectors. Some of its major holdings include companies such as Rent-A-Center (RCII), Staples (SPLS), Big Lots (BIG), and Dillard's (DDS).
Here's the lowdown…
Grocery stores that specialize in organic clean eating have had a rough run lately. But this space still has lots of potential for growth.
Instead of trying to pick the individual stocks that will be winners or losers, consider using an ETF to profit from the overall growth of healthier food.
Good Investing,
Corey Williams
Category: ETFs