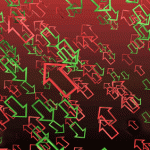 So far the month of May is living up to expectations.
In other words, investors are selling in May. But it remains to be seen if they go away or if they're lured back into stocks.
The seasonal rotation out of US stocks was helped along by rising violence and tension in Ukraine and a dose of weak economic data out of China. As a result, investors sold ETFs that hold US stocks to the tune of nearly $6 billion last week.
These fund flows are a valuable indicator of what traders are thinking. It takes a lot of buying or selling to drive millions or even billions of dollars into or out of individual ETFs.
Fund flows are something traders use to find trends and gauge investor sentiment. And it can help you pinpoint which ETFs could be next to make a big move higher or lower.
ETFs that hold US Treasuries were once again the big winners last week. Last week $436 million flowed into iShares 20+ Year Treasury Bond (TLT) and an additional $205 million landed in the iShares 7-10 Year Treasury Bond (IEF).
This is a clear indication of de-risking of investment portfolios.
The situation in Ukraine, as well as the seasonal weakness of stocks from May to October, clearly has investors seeking a safe haven. And there's no place safer than US Treasuries to hide from uncertainty.
The biggest loser over the last week was iShares Russell 2000 (IWM). The ETF that hold US small cap stocks shed $1.5 billion.
But IWM wasn't alone…PowerShares QQQ (QQQ) and the SPDR S&P 500 (SPY) also saw large outflows over the last week. QQQ lost $1.2 billion while SPY lost $1.1 billion. In fact, over the last four weeks, investors have dumped $7.7 billion worth of SPY.
Here's the thing…  
Most small cap stocks fall into the growth category. The correction in growth stocks has sent IWM down more than 8% from the 52-week high. And it's now below the 200-day moving average – a key support level many technical traders keep a close eye on.
I think last week's massive outflows from IWM and QQQ are a capitulation point. In other words, investors are selling because of fear and they just want out of growth stocks and small cap stocks.
I think the correction in growth is overdone. I wouldn't be surprised to see big investors start sifting through the wreckage and start buying some of the best bargain stocks.
That wraps up this week's ETF fund flows…
Keep in mind, there's a lot of information about ETF fund flows. And it can be a very useful tool as long as you know what you're looking for.
Good Investing,
Corey Williams
Category: ETFs, Market Analysis