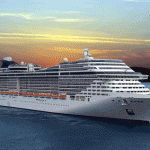 The popularity of cruising has skyrocketed over the past decade. The cruise industry provides a lot of bang for your buck. For about $150 per day, you can have a tropical vacation with gourmet food included.
We have all seen the commercials on TV…Couples enjoying a romantic dinner, families enjoying a Vegas style show, children sliding down onboard waterslides, and images of sunbathers soaking up the Caribbean sun. Who wouldn't want to cruise?
Getting to the cruise ports is even easier than ever. There are numerous ports to disembark from making it possible for people to drive to the port rather than spending money on airfare. This type of affordability is making the lure of a cruise very appealing to the casual traveler.
Cruise companies have responded to the increase in cruise travel by introducing new ships and new destinations. One company in particular, Royal Caribbean Cruises Ltd. $RCL, is just killing it in earnings and performance.
During the fourth quarter of last year, the S&P 500 gained 4.4% while $RCL jumped over 20%.
What's even better…
The company is expecting its third-quarter profit report, which will be released on November 9th, to be the biggest earnings of the year!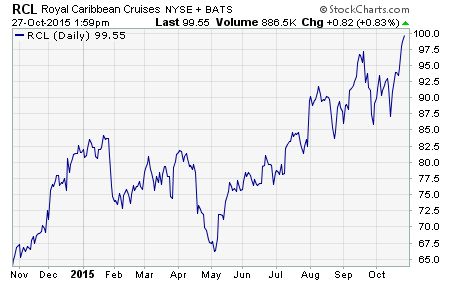 Let's take a look at some ETFs with exposure to Royal Caribbean Cruises…
3 ETFs With Exposure to Royal Caribbean Stock 
The three ETFs with the largest weighting of RCL are SPDR MFS Systematic Core Equity ETF $SYE, Calamos Focus Growth ETF $CFGE, and Guggenheim S&P 500 High Beta Port ETF $RCD.
The ETF with the highest exposure is SPDR MFS Systematic Core Equity ETF $SYE, which holds 3.56% of its shares. The ETF is currently being traded at $59.04 and has a dividend yield of $0.93. It is operating with an expense ratio of 0.60%.
The fund holds large-cap US stocks that the manager believes are undervalued and/ or have high growth potential. Some of the companies that it hold besides $RCL include Apple Inc. $AAPL, Amazon.com Inc. $AMZN, Electronic Arts $EA, and Kroger Co. $KR.
Other ETFs With High Exposure To Royal Caribbean Stock
The ETF with the second highest exposure to $RCL is the Calamos Focus Growth ETF $CFGE. This ETF is currently being traded at $10.75. The ETF has a dividend yield of 0.05% and has an expense ratio of 0.99%.
CFGE is a relatively new fund and holds a portfolio of primarily US large-cap equities selected for sustained growth capacity. These companies include Microsoft Corp $MSFT, Facebook Inc. $FB, Walt Disney Co. $DIS, and Apple Inc. $AAPL.
The ETF with the third highest exposure to RCL is the Guggenheim S&P 500 High Beta Port ETF $RCD. The ETF is currently being traded at $88.45 and has a dividend yield of 2.06%. Its expense ratio is currently 0.40%.
RCD tracks an equal weighted index of large cap US Consumer Discretionary stocks from the S&P 500. Some of the other companies that RCD holds include Nike Inc $NKE, Netflix Inc. $NFLX, Expedia $EXPE, Under Armour $UA, and Dollar Tree $DLTR.
Let's Take A Look At Some Of The Differences Between These ETFs Holding Royal Caribbean Stock 
Taking a closer look at these ETFs we can see a few ways to differentiate between them. The Calamos Focus Growth ETF is being traded substantially lower than its two competitors. This may look like an attractive ETF to purchase, but take a look at its expense ratio of 0.99%!
Don't forget, expenses eat into your returns.  So RCD and SYE have the edge over CFGE based on their lower cost of operating.
Good Investing,
Corey Williams
Note: Corey Williams writes and edits ETFTradingResearch.com.  Sign up for our free ETF reports and free e-letter at http://www.etftradingresearch.com/free-sign-up.  We're devoted to helping you make more money from ETFs.
Category: Sector ETFs
Corey Williams is the editor of Sector ETF Trader, an investment advisory service focused on profiting from ETFs and the economic cycle. Under Corey's leadership, the Sector ETF Trader has become one of the most popular and successful ETF advisories around. In addition to his groundbreaking service, Corey is the lead contributor to ETF Trading Research, where he shares his insights about ETFs and financial markets three times a week. He's also a regular contributor to the Dynamic Wealth Report and the editor of one the hottest option trading services around – Elite Option Trader.