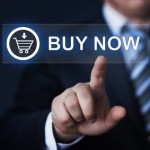 Right now new information is coming at us on a daily basis.  And it's a challenge to make heads or tails of it.
The environment is so difficult that many hedge funds are throwing in the towel.  More than 400 hedge funds simply shut down and returned money to investors in the first half of the year.
Here's what we know…
Economic Data Impacting Sector ETFs To Buy In October
The global economy is struggling.  Consumers aren't increasing spending.  Inflation is non-existent.  And the jobs market is weakening.
We've known for some time that economic growth is slowing in China and other emerging markets.  What's more, just about every major developed economy outside of the US has been dealing with issues as well.
It was only a matter of time until the weakness in the global economy had an impact on the US economy.
Now we're seeing this impact on US economic data. Industrial production slumped in September and a gauge of future industrial production shows this slump is likely to continue.
And the consumer spending data isn't any better.  Retail sales grew a paltry 0.1% in September after being unchanged in August.
That's six out of the nine months so far in 2015 that retail sales slowed or were flat from the previous month!
This weakness is hitting the top and bottom line across a wide swath of corporate America.  We've already seen companies like Wal-Mart $WMT and several luxury retailers miss expectations by a wide mark in the 3rd quarter.
The bad news is so widespread that it was actually good news for stocks.
How can that be?
Simple, there's no chance that the Fed is going to raise interest rates when their economy is slowing and inflation is running below their target.
So, the poor economic data has pushed out the timing of the first Fed rate hike until sometime in 2016.  The continuation of the Fed's zero interest rate policy, or ZIRP, is being viewed as beneficial to stocks.
Price Action Signals Sector ETFs To Buy In October
Recent events are having a negative impact on the US Dollar.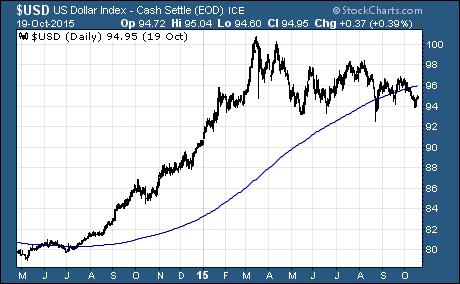 As you can see, the US Dollar is nearly 6% below the March 2015 peak.  This should help stabilize commodity prices as well as revenues US companies generate outside the US.
In fact, the reversal of the US Dollar is the key take away.  Here's how you can profit from it…
These Are The Sector ETFs To Buy In October
Identifying industries with positive macroeconomic themes is a critical part of the Sector ETF Trader strategy.
Sector ETF Trader identifies high-return potential ETFs based on a number of macro, fundamental, and technical indicators.  These indicators offer you the opportunity to participate in some very large moves in a relatively short amount of time.
And because it focuses on ETFs, you get the advantages of both stocks and mutual funds, without the problems of high fees and over-concentration.
Rather than taking a 'shotgun' approach to the market, I use a time-tested system like a scalpel to carve out those 'hidden gems' with the greatest chance of spectacular profits.
You can develop an ETF trading system like mine or you can let me do the heaving lifting for you.
It's not too late to pick up the most recent issue of the Sector ETF Trader.  But you'll need to take action now to avoid missing out.  Click this link to find out more about this easy method to identifying the most profitable sector ETFs around!
Good Investing,
Corey Williams
Note: Corey Williams writes and edits ETFTradingResearch.com.  Sign up for our free ETF reports and free e-letter at http://www.etftradingresearch.com/free-sign-up.  We're devoted to helping you make more money from ETFs.
Category: Sector ETFs