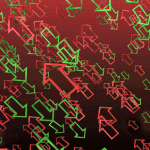 US GDP growth slowed from 3.9% in the 2nd quarter to an annualized pace of 1.5% in the 3rd quarter.  The cause of the slowdown was the sluggish global economy outside of the US and a drop in exports made worse by a strong US Dollar.
The slowdown was in line with expectations.  And most likely one of the main culprits of the stock market selloff that hit US stocks in August.
In addition, the healthcare industry was broadsided by several high profile news stories about price gouging and fraudulent sales.
But October has been a very different story for US stocks.
3rd quarter earnings have been a pleasant surprise.  And central banks in Europe and China have been spurred into action.  The Chinese central bank lowered interest rates and reserve requirements while Europe's central bank promised more stimulus.
What's more, the US central bank has put off raising interest rates.  And it now appears the first rate hike won't happen until sometime next year.
Not surprisingly, the investors were happy with these developments that have proven to be beneficial to stocks in the past.  In fact, the S&P 500 shot up more than 10% during the month.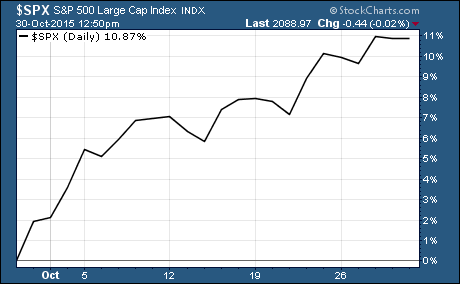 And it triggered a change in the emotion driving the market action.
The Emotion Driving October ETF Fund Flows
Fear had been dominating Wall Street for months.
Many of the indicators we use to track the emotional state of the market turned from fear to greed.  Market volatility, the option market, stock performance relative to bond performance, and the volume of buying all indicate greed is the dominant emotion.
As you can see in this chart of the VIX, expectations of market volatility have plummeted over the last month.  In other words, the fear of a 20% correction or bear market has evaporated.
And we can see this change in the ETF inflows and outflows.
ETFs With The Largest Inflows In October
One area of the market that had been hit hard by the August correction was the high yield and junk bond market.
Demand for these types of investments dried up during the selloff.  And we saw the spread between investment grade bonds and riskier ones widen to the highest levels of the year.
As investors' risk appetite has returned, inflows into ETFs that hold these bonds has soared.  The SPDR Barclays High Yield Bond $JNK led all ETFs with $2.6 billion in net inflows in October.
There were also large inflows into two other bond ETFs… iShares iBoxx $ Invesment Grade Corporate Bond $LGD had net inflows of $2.5 billion and iShares iBoxx $ High Yield Corporate Bond $HYG had $2.3 billion in net inflows.
That's more than $7 billion in inflows into these bond funds.  This is a clear indication that the fears that had been headwinds for the market have subsided.
ETFs With The Largest Outflows In October
The October inflows gave us clear indications of fear subsiding.  There's really nothing that jumps off the page of the ETFs with largest net outflows in October.
Only one ETF had more than $635 million in net outflows… and that was the SPDR S&P 500 $SPY.  For an ETF with $183 billion in assets, that's not even a drop in the bucket.
We did see some selling of small cap ETFs like iShares Russell 2000 $IWM down $632 million and Vanguard Small-Cap Growth $VBK down $387 million.  As well as outflows of $497 million in iShares Nasdaq Biotechnology $IBB and $363 million in Market Vectors Gold Miners $GDX.
But these outflows are pale in comparison to the large inflows into the high yield bond funds.
Here's the bottom line…
The negative feedback loop that drove stocks and other risky assets down has been broken.  Fear of a bear market has subsided and greed is now the dominant emotion on Wall Street.
As I pointed out last month, "high levels of fear don't typically last long outside of bear markets… If the negative feedback loop is broken, it could catapult stocks higher in the 4th quarter."
It certainly appears stocks are heading for a strong run to end the year.
Good Investing,
Corey Williams
Note: Corey Williams writes and edits ETFTradingResearch.com.  Sign up for our free ETF reports and free e-letter at http://www.etftradingresearch.com/free-sign-up.  We're devoted to helping you make more money from ETFs.
Category: Market Analysis