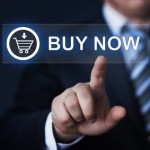 As we near the halfway point for the year, small-cap stocks are outperforming large and mid-cap stocks.  That's right, stocks with a market-cap of under $2 billion are taking it to the big boys this year.
I believe there are some good small-cap stock ETFs to buy for Q3.  But before we get there, let's take a look at how we got to this point.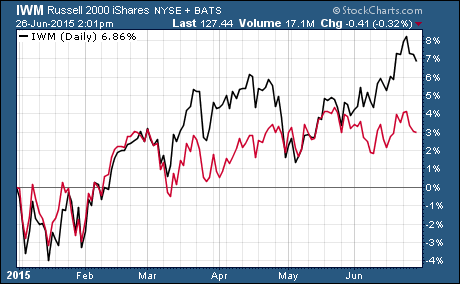 In this chart, iShares Russell 2000 ETF $IWM is the black line and the SPDR S&P 500 $SPY is the red line.
As you can see, small and large cap stocks we're moving in lockstep to start the year.  In March, small-caps started to outperform large caps.  But they were also hit harder by the market pullback in April.
Then small-caps really hit their stride in June.  At this point, IWM is up 7.2% while SPY is up 3.0% year-to-date.
One thing to keep in mind is the Russell 2000 index just did its annual rebalancing, when companies are added and subtracted from the index, on Friday.
Why Are Small-Cap Stock ETFs Outperforming?
There are three main reasons that most people are pointing to for small-cap stocks recent outperformance –
The strong US Dollar doesn't hurt small-caps as much as large-caps.

Small-caps do a larger percentage of their business inside the US than large-cap companies. So the strong US economy and sluggish global economy benefits small-cap stocks more.

The Fed is likely to raise interest rates more slowly than expected over the next few years.
I expected small-cap stock ETFs to outperform.  I said as much back in September.
But the real reason for the outperformance can be summed up in one word – Biotech! 
That's right, small cap biotech stocks are on fire.  Amazingly, 18 of the 20 top performing small-cap stocks this year are in healthcare.  And the vast majority of those are biotech or drug manufacturers.
This includes stocks like Anthera Pharmaceuticals $ANTH and Eagle Pharmaceuticals $EGRX that are both up an eye-popping 438% this year!
That gives investors who want to cash in the outperformance of mid-cap stocks a few choices.
Choosing The Right Small-Cap Stock ETFs To Buy For Q3
Small-cap ETFs are popular because they provide growth opportunities.  I'm expecting small-cap ETFs with a focus on growth stocks to be the top performers in Q3.
iShares Russell 2000 Growth ETF $IWO targets small-cap growth stocks in the Russell 2000.  Prior to the Friday rebalancing of the Russell 2000, it held 1,201 stocks and is up 11.2% year-to-date.
The Guggenheim SmallCap 600 Pure Growth $RZG is another ETF in this area to consider.  It's up 13.8% year-to-date.  This ETF only holds stocks from the S&P SmallCap 600 with strong growth characteristics.  As a result, it only holds 134 stocks.
Another offering from iShares is the Morningstar Small-Cap Growth ETF $JKK.  This ETF tracks the Morningstar Small Growth Index.  It holds 253 small cap stocks.  It's up 9.8% year-to-date.
Expense Ratios Of Small-Cap Stock ETFs To Buy For Q3 
One thing you should always keep in mind when evaluating which ETF to buy is the expense ratio.  This is how much money the ETF provider charges investors to own the ETF.
All else being equal, an ETF with lower expenses is better than an ETF with higher expenses.
IWO has an expense ratio of 0.25%.  This is slightly below average for ETFs that focus on small-cap stocks.
RZG's expense ratio is 0.35%.  This is slightly above average but nothing that should scare you away from investing in RZG.
JKK has an expense ratio of 0.30%.  It's slightly higher than IWO but still lower than RZG.
You can use an ETF screener to find even more ETFs that are focused on small-cap stocks.
Good Investing,
Corey Williams
Note: Corey Williams writes and edits ETFTradingResearch.com.   Sign up for our free ETF reports and free e-letter at http://www.etftradingresearch.com/free-sign-up. We're devoted to helping you make more money from ETFs.
Category: Investment Style ETFs