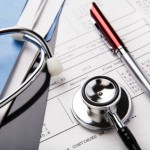 Over the last month, Cigna $CI is the top performing stock in the S&P 500. CI is up more than 22%.  One thing investors need to be aware of is ETFs with Cigna are a great way to get exposure to it and other stocks that are similar.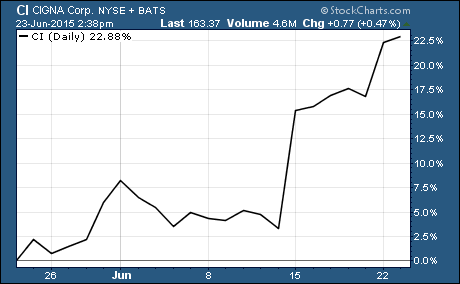 Cigna is one of the largest health insurance companies in the world.  It has a market cap of $41.8 billion and provides medical insurance to 14.5 million people in more than 30 countries.
Ever since ObamaCare was signed into law in March of 2010, the entire healthcare industry has been shaken up.
The law has had the desired effect of insuring more people.  It also put tougher rules in place for healthcare providers.
These new rules sparked a wave of mergers and acquisitions in the healthcare industry.
We've seen M&A activity sweep through hospitals and healthcare providers, pharmacies, drugmakers, and health insurers over the last few years.
The consolidation has reached a point that US health insurance is essentially confined to five major companies – Cigna, Anthem $ANTH, Humana $HUM, Aetna $AET, and UnitedHealth Group $UNH.
Investors continue to put pressure on these health insurers to continue growing.
Now there's really only one option for these multibillion dollar companies to meet these expectations.  In order to make a deal that has a significant impact on their top and bottom line, they have to do a mega-merger with one of the other big health insurance companies.
And that's exactly what's being discussed right now…
The merger conversation between Anthem and Cigna went public last week.  Anthem has turned down the offer from Cigna as two high powered CEOs battle it out for control of the combined company.
It appears that the health insurance industry is on the verge of a major shakeup.  There could be as few as two huge health insurance companies standing by the time things are all done.
One thing's for sure, investor certainly like what they see.  And I'm expecting more big moves from CI and other health insurance companies as the details of these mega-mergers are ironed out.
Here Are 2 ETFs With Exposure To Cigna
iShares U.S. Healthcare Providers ETF $IHF and PowerShares DWA Healthcare Momentum Portfolio $PTH have the largest weighting of CI.
CI is the 4th largest holding in IHF.  It accounts for 7.15% of the ETF.  This ETF tracks an index of 51healthcare companies in the US.  These include hospitals, healthcare providers, nursing, rehab, and dentists.  It has an expense ratio of 0.45% and it's up 4.9% over the last month.
PTH allocates 4.47% of its holdings to CI.  This ETF holds 48 healthcare stocks that are selected and weighted according to investment merit criteria.  It has an expense ratio of 0.68% and it's up 5.1% over the last month.
Other Holdings Of ETFs With Cigna
IHF and PTH have very different holdings.
PTH's Dynamic Healthcare Sector Intellidex Index creates a unique index.  The index is designed to provide capital appreciation by thoroughly evaluating companies based on things like fundamental growth, stock valuation, investment timeliness, and risk factors.
On the other hand, IHF is a market cap weighted ETF that tracks the healthcare providers sub-sector of the U.S. equity market.
Over the last year, IHF has outperformed PTH by 6%.  This comes despite the fact that PTH tracks an index that's designed to create bigger gains and has a larger expense ratio.
In other words, the traditional market cap weighted IHF is a better option than the smart-beta PTH in terms of performance and cost.
Other ETFs With Cigna Holdings
There are plenty more ETFs with exposure to CI.  In fact, I see 76 ETFs when I run a screener for ETFs with exposure to CI.
Good Investing,
Corey Williams
Note: Corey Williams writes and edits ETFTradingResearch.com.  Sign up for our free ETF reports and free e-letter at http://www.etftradingresearch.com/free-sign-up.  We're devoted to helping you make more money from ETFs.
Category: Sector ETFs