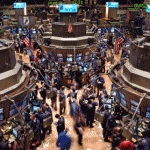 The first quarter of 2015 is in the books.
Members of Sector ETF Trader closed out three trades in the first quarter for double digit gains.
We sold Market Vectors Retail ETF $RTH on February 6th for a gain of 18.8% after holding the ETF for about 3 months…
We sold Powershares Dynamic Media Portfolio $PBS on February 17th for a gain of 16.1% after holding it for 17 months…
And we sold First Trust Health Care Alpha Dex Fund $FXH on February 27th for a gain of 17.8% after holding it for 6 months…
What's more, we have several ETFs we're still holding that continue to rack up gains.
Let's take a look at what's driving the market action in our April Stock Market Update.
First off, we have the fallout from low oil prices. 

 
As I've pointed out before, the economic fallout from the drop in oil prices isn't completely understood at this point.
Sure, it's good for consumers when oil prices go down.  But the ramp up of US oil production has been one of the primary drivers of the US economy in recent years.
The dramatic drop in oil prices is triggering layoffs at oil companies and all of the other companies that were catering to the oil business.  We saw that weakness in the most recent jobs report.  I believe there's still more pain to come here.
Secondly, economic forecasts are horrible.
The most recent employment numbers highlighted just how little economists understand about the economy.  It's simply stunning how wrong these guys are more often than not.
It's not hard to figure out why they're wrong so often.
They simply extrapolate what has been happening over the past few quarters out into the future.
Sadly, the Fed is full of these same economists that don't have a clue how to use common sense is setting monetary policy.  We're seeing the Fed beat a hasty retreat back to a much more dovish commentary on interest rates after the latest jobs data.
Their hawkish talk on interest rates was clearly a bit premature given the weakness in the global economy, strength of the US Dollar, and lack of real wage growth in the US.
And the third thing is the global economy. 

 
There are many threats to the global economy from debt issues, geopolitical turmoil, and the dramatic drop in oil prices.
There are also opportunities in places like Europe, India, Japan, and China that are using a variety of different things to accelerate economic growth.
Right now the sum of all the economic data, fundamental data, and technical analysis is uncertain… there are too many things pulling at the market from different directions.
As a result, we've seen an uptick in volatility and US large cap stocks getting off to a slow start in 2015.
Good Investing,
Corey Williams
Note: Corey Williams writes and edits ETFTradingResearch.com.  Sign up for our free ETF reports and free e-letter at http://etftradingresearch.com/free-sign-up. We're devoted to helping you make more money from ETFs.
Category: Market Analysis