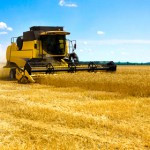 Over the last few years, US farmers have enjoyed total profits of more than $100 billion per year.
Since then, crop prices have fallen and the expense of seeds, fertilizer, and other inputs have continued to rise.
Now, according to a new USDA forecast, total farm income will plummet 22% this year to $89.4 billion.  The steep drop in farm income is the biggest drop since the Great Depression!
In fact, the budget of some farmers will be stressed to the point that they won't be able to cover their production costs.
Needless to say, this isn't good news for agribusiness stocks that make their money selling equipment, seeds, fertilizer, and other goods to farmers.
As a result, many agribusiness stocks and the ETFs that hold them haven't performed well over the last year.
In fact, we have seen many agribusiness companies cutting employees and other expenses in order to contain costs and prop up profitability.
But there's one thing that could lift industry profits above current expectations.
Will cheap oil prices save this agriculture ETF?
Fuel costs are one of the biggest expenses for farmers.  It takes a lot of diesel to run the tractors, trucks, and other equipment needed to operate a farm.
Around 5% of farmers' expenses are tied to fuel costs.
So, the recent drop in oil prices could be a life saver for some farming operations.
It also means that farmers will have more money to spend on things like fertilizer and equipment.  Money that many analysts assumed farmers would need to spend on fuel can now be spent on items that will benefit agribusiness stocks.
In other words, agribusiness stocks have the potential to outperform analyst estimates this year.  As you know, owning stocks that generate more sales and profits than everyone expects can lead to some very nice profits for investors.
Agriculture ETFs come in many forms
The most popular agriculture ETF that holds agribusiness stocks is the Market Vectors Agribusiness ETF (MOO).  It has more than $1.4 billion in assets under management.
There are also several ETFs that track groups or individual commodity prices like corn, wheat, and soybeans.
The most popular of these ETFs is the PowerShares DB Agriculture Fund (DBA).  This ETF tracks an index of the most widely traded agricultural commodities.
Here's how you can find more agriculture ETFs.  Link sentect to.  http://etftradingresearch.com/use-etf-screener
My favorite agriculture ETF
Obviously, there are a lot of ETFs designed to give investors exposure to the agriculture industry.
But keep in mind, agricultural commodity prices aren't expected to rebound this year.  There are strong supplies and stockpiles of most commodities.  What's more, the strong US Dollar is hurting exports of crops grown in the US.
The investment opportunity here isn't betting on a rebound in commodity prices like the ETF DBA gives investors.  The opportunity can be found in agribusiness stocks that have cut expenses and could see revenue and profits beat expectations.
That means investing in an ETF like MOO that holds agribusiness stocks is the way to profit from the current market environment.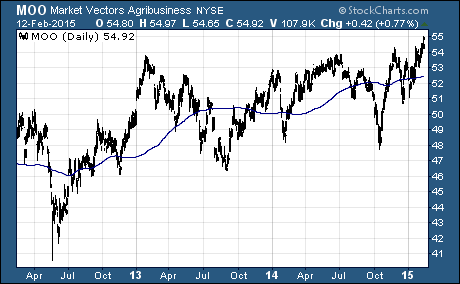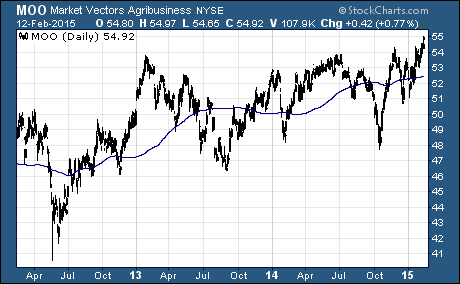 Good Investing,
Corey Williams
Note: Corey Williams writes and edits ETFTradingResearch.com.   Sign up for our free ETF reports and free e-letter at http://etftradingresearch.com/free-sign-up. We're devoted to helping you make more money from ETFs.
Category: Sector ETFs