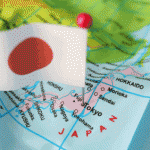 It's a time of change in Japan.  Drastic reforms are underway to revitalize the Japanese economy that has been stagnant for two decades.
I believe a Japan ETF is one ETF that every investor should be looking to add to their portfolio.
Here's why…
The Japanese Prime Minister, Shinzo Abe, used fiscal stimulus and monetary easing to jumpstart the economy.  His pro-growth policies are known as Abenomics.
And they worked for a while.
Then he raised the consumption tax rate because the government needed more revenue to pay off their mountain of debt.
Not surprisingly, this caused a spike in spending prior to the tax hike.   And it caused the economy to contract in the two quarters after the hike.
The adjustment period seems to be over.  Japan's economy grew at an annualized rate of 2.2% in the fourth quarter.
It came up short of the 3.7% that analysts were expecting the economy to grow at.  And there's still skepticism that the current plan to jumpstart the economy will work.
One thing's for sure, corporate profits are at record highs and stock market is surging higher.  A Japan ETF is an easy way for you to add exposure to these stocks.
Most Popular Japan ETF
There are more than 190 ETFs that have exposure to Japanese stocks.  But only 19 of them are pure plays on Japanese stocks.
The most popular in terms of assets under management is iShares MSCI Japan Index Fund (EWJ).  It has $14 billion in assets.
EWJ tracks an index of 311 large and mid-cap stocks.  It seeks to give investors exposure to 85% of total Japanese stock market.
Here's how you can find more Japan ETFs.  Link sentect to.  http://etftradingresearch.com/use-etf-screener
Japan ETF With Currency Hedge 
Another popular Japan ETF is the WisdomTree Japan Hedged Equity Fund (DXJ).  This ETF has $13.2 billion in assets under management.
The key difference between DXJ and EWJ is the currency hedge.
DXJ is designed to provide exposure to equity securities in Japan, while at the same time hedging exposure to fluctuations between the value of the US Dollar and the Japanese Yen.
The ETF offers investors a way to access the full potential of Japanese stocks when the yen is weakening versus the US Dollar.
This has led to a solid 50% surge in DXJ over the last two years.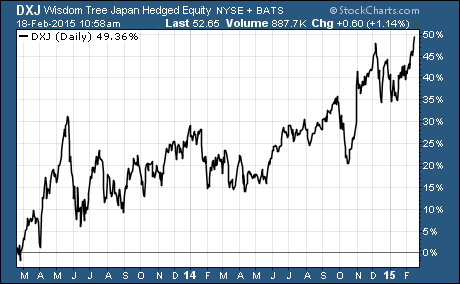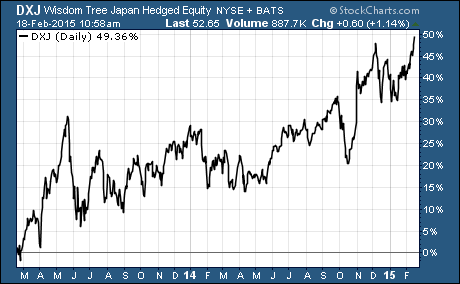 Which Japan ETF Is Right For You?
With so many ETFs available, there's sure to be one that will suit your needs.
For me, DXJ with the hedge against the Yen is still the way to go.  The current stimulus programs are aimed at keeping the currency cheap or driving it even lower.
I prefer to have exposure to Japanese stocks with the need to worry about fluctuations in the currency market as well.
Good Investing,
Corey Williams
Note: Corey Williams writes and edits ETFTradingResearch.com.  Sign up for our free ETF reports and free e-letter at http://etftradingresearch.com/free-sign-up. We're devoted to helping you make more money from ETFs.
Category: Foreign Market ETFs