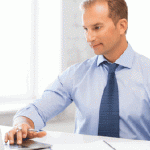 It doesn't matter if you're a long term investor or a short term trader, you should have an ETF trading system if you're putting your hard earned money at risk.
What is an ETF trading system?
An ETF trading system is simply a plan or strategy you use for making investment decisions.  It's a way for you to manage your portfolio with confidence.
It's the foundation your decisions are built on so you can avoid the emotional ups and downs that come with investing in stocks.
How to develop your own ETF trading system
Developing your own ETF trading system takes some work.
You'll need to figure out what types of ETFs you'll invest in, develop a buy and sell discipline, as well as decide on a risk management and cash management system.
One tool you'll find helpful is an ETF screener.
You'll also want to develop and ETF list that you can track on a regular basis.
My ETF trading system  
Sector ETF Trader is an advanced trading system.  It takes a top-down look at the markets.  We identify specific sectors and sub-sectors with the potential to outperform the market and make you money very quickly.
So, how do we do it?
We start with the economy.  First we look at economic trends and identify the major market cycles.  By knowing where in the economic cycle we are, we can focus our investments on the industries that do well in these cycles.  That's what allows us to capture the really big gains.
You know as well as I do, the economy runs in cycles.  It's not always booming and we're not always in a recession.
You see, as the economy cycles through good times and bad, certain industries outperform others.  Once we know what part of the cycle we're in, we can focus on very specific industries.
To do that, we rigorously screen and analyze each broad sector.  Normally this provides some really interesting data.  Once we start looking at these sectors, we're able to uncover even more data… mini cycles within industries, government influence, international impact, even influences from the big players in the sector.
Taking this newfound data, we then focus on very specific ETFs.  We look at each one individually.  That way we're able to find the best one for your portfolio.
That's a brief overview of my ETF trading system.  It's one that I've found to be very profitable.
But one thing's for sure, no one should blindly start buying ETFs on a whim, everyone should have an ETF trading system before investing their hard earned money.
Good Investing,
Corey Williams
Note: Corey Williams writes and edits ETFTradingResearch.com.   Sign up for our free ETF reports and free e-letter at http://etftradingresearch.com/free-sign-up. We're devoted to helping you make more money from ETFs.
Category: ETFs