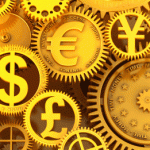 Currency hedged ETFs are all the rage with investors.  In fact, the two ETFs with the largest net inflows of money are both currency hedged ETFs.
Investors have pumped a whopping $15.4 billion into WisdomTree Europe Hedged Equity $HEDJ this year and another $11.1 billion into Deutsche x-trackers MSCI EAFE Hedged Equity ETF $DBEF.  You'll also find the WisdomTree Japan Hedged Equity $DXJ among the leaders in assets gained with $4.3 billion in net inflows.
Amazingly, these 3 currency hedged ETFs had more net inflows than the seven other ETFs with the largest net inflows.  And for good reason, HEDJ is up 12.4% and DBEF is up 7.1%.  That's not too shabby when you consider the S&P 500 is up a paltry 1.5% this year.
The performance and the influx of money into these ETFs peaked in March along with the US Dollar.  Then the US Dollar pulled back from its peak against foreign currencies.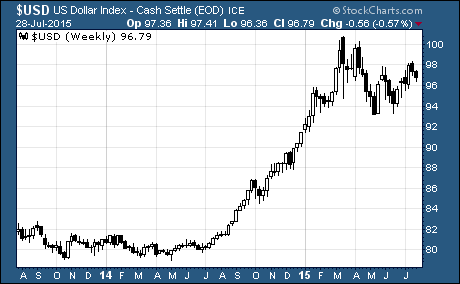 After taking a breather over the last few months, the US Dollar is once again moving higher against rival currencies.  As a result, investors are starting to put more money into currency hedged ETFs again.
Many investors are still wondering… Are currency hedged ETFs safe?
That can mean two things… Are currency hedged ETFs good investments or is the financial instrument itself safe.   First, let's look at the investment thesis that makes currency hedged ETFs good investments.
Are Currency Hedged ETFs Good Investments? 
Remember, a currency hedged ETF invests in non-US stocks.  And lately, non-US stocks are gaining favor with institutional investors and analysts alike.
Over the last few weeks, some big name advisors have upgraded their outlook for European stocks while downgrading their outlook for US stocks.  So, there's fundamental data supporting strong returns for European stocks.
What's more, currency hedges provide a benefit to investment in foreign stocks when the US Dollar is increasing in value relative to other currencies.  And as I pointed out above… the US Dollar appears to be resuming its long term uptrend.
In other words, both of the key elements are here for bullish bets on currency hedged ETFs. 
But more investors are wondering how these ETFs hedge against currency volatility.  And more importantly, is there potential for these hedges to blow up in their face?
Are Currency Hedged ETFs Safe To Own? 
Currency Hedged ETFs like $HEDJ, $DBEF, and $DXJ use derivatives to hedge currency risk.  Yep, those are the same financial "weapons of mass destruction" that Warren Buffett talked about before.
But that doesn't mean the derivatives used to hedge currency risk make the ETF riskier.
Here's why…
The worst case scenario is a derivative blows up when the counterpart can't perform.  In that scenario, you'll lose the currency protection but you will still own the stocks in the same way as you would have in an un-hedged ETF.
These derivatives are far from causing any 'mass destruction' to your investment.  And they should not be considered a major factor in making any investment decision.
Good Investing,
Corey Williams
Note: Corey Williams writes and edits ETFTradingResearch.com.  Sign up for our free ETF reports and free e-letter at http://www.etftradingresearch.com/free-sign-up.  We're devoted to helping you make more money from ETFs.
Category: Currency ETFs, Foreign Market ETFs