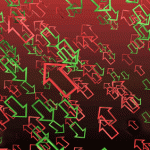 Today we're taking a look at ETF fund flows in iShares 3-7 Year Treasury Bond (IEI) and SPDR S&P 500 (SPY).
ETF fund flows are a valuable indicator of what traders are thinking.  It takes a lot of buying or selling to drive millions or even billions of dollars into or out of individual ETFs.
Fund flows are something traders use to find trends and gauge investor sentiment.  And it can help you pinpoint which ETFs could be next to make a big move higher or lower.
Let's take a look some interesting fund flows from the leading ETFs from August 28th to September 3rd.
iShares 3-7 Year Treasury Bond (IEI) collected $2 billion over the last week to rank at the top of the list for net inflows.
IEI reached an all-time high of $123.98 on May 22nd.  That's when Fed Chairman Bernanke first hinted at tapering the central bank's massive $85 billion per month asset buying program.
Since then, IEI has been trending lower.  The $2 billion ETF has shed 3.6% since the peak.
Bond funds have been more volatile than usual of late as investors speculate on the timing of the Fed tapering.  And it's still unknown how the Fed's exit from the fixed income market will impact the market.
One thing's for sure, investors haven't been this bearish on bonds in years.  Only 23% of investors are bullish on bonds right now.  And those who believe the taper will begin as early as this month have been selling Treasuries.
However, some believe the selloff has been overdone.  Many bond funds are more oversold now than at any time in the last 15 years.
The influx of money into IEI indicates some investors are positioning themselves to profit from a bounce in bond prices.
Traders began buying IEI after it reached technical support at $120 and disappointing data on home sales led some to believe the Fed could be forced to put off tapering asset purchases until later this year or even 2014.
If the Fed holds off, investors who bought IEI stand to profit as bonds rise.
The SPDR S&P 500 (SPY) was hit with a whopping $5.7 billion in redemptions over the last week.  It was part of a $16 billion monthly outflow from ETFs in August… the worst month for ETF fund flows since January 2010.
SPY has fallen 4% from the peak of $170.97.  And speculation of a larger pullback in stocks has drove hot money out of US stock ETFs.
At this point, traders are eyeing $156.00 as the level SPY could reach if the selloff continues.  This is the 2nd quarter low and just above support of the key technical support of the 200-day moving average.
That's an 8.7% correction from the market peak.  That's not unusual but it's a departure from the extremely bullish uptrend that drove SPY higher day in and day out during the first half of the year.
And it could happen sooner rather than later if traders continue to pull money out of SPY and other US stock ETFs at a pace of $16 billion per month.
That wraps up this week's ETF fund flows…
Keep in mind, there's a lot of information about ETF fund flows.  And it can be a very useful tool as long as you know what you're looking for.
Good Investing,
Corey Williams
Category: Bond ETFs, ETFs, Index ETFs