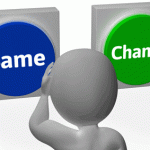 The bull market for US stocks hasn't missed a beat this year.
Despite a host of issues that could have derailed the rally, the large cap index has continued to make one new high after another.
It started the year at a new high of 1,850… it made a new high just shy of 1,900 in the spring… it climbed to a new high of 1,991 by the middle of summer… and as the Labor Day holiday signaled the end of summer, it climbed to 2,011.
All in all, the S&P 500 is up about 9% year-to-date. That's an impressive run to say the least.
Let's take a look at a chart of the relative performance of the nine S&P Sector ETFs. This chart shows how the individual sectors have performed relative to S&P 500.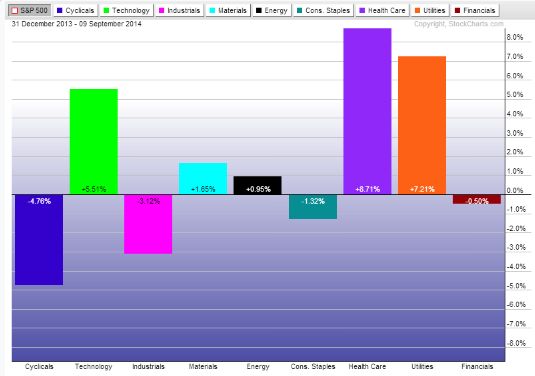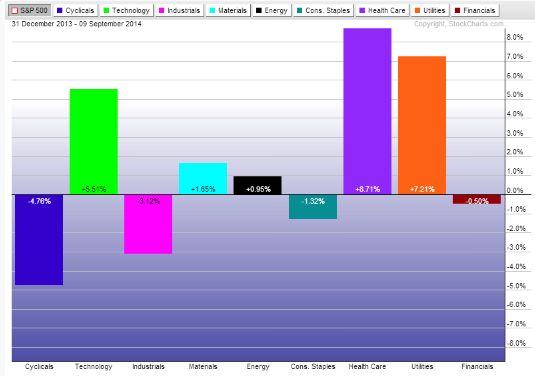 As you can see, Health Care, Utilities, and Technology have outperformed the S&P 500 the most. These sectors are the biggest reason the S&P 500 is up 9% so far this year.
In absolute terms, these three sectors are having a phenomenal year. The SPDR HealthCare ETF (XLV) is up 16.3%, the SPDR Utilities ETF (XLU) is up 14.8%, and the SPDR Technology ETF (XLK) is up 13.1%.
If you're looking to jump on the bandwagon of the year's hottest sectors, then XLV, XLU, and XLK are the way to go.
However, if you're a contrarian, you may not like to jump onboard with the hot hand. Then you'll want to look into the sectors that have lagged behind during the first half of the year.
So far this year, the SPDR Consumer Discretionary ETF (XLY), SPDR Industrials ETF (XLI) and SPDR Consumer Staples ETF (XLP) have been the weakest performers relative to the S&P 500.
Keep in mind that XLY, XLI, and XLP are up in absolute terms… XLY is up 2.8%, XLI is up 4.5%, and XLP is up 6.3% year-to-date.
Here's the upshot…
As we head into the final quarter of 2014, every sector in the S&P 500 is up year-to-date. But which sectors will outperform over the final months?
Will it be the Healthcare, Utilities, and Technology sectors that have led us higher this year? Or will the contrarians win out and the laggard Consumer Discretionary, Industrials, and Staples sectors lead the markets 4th quarter performance?
Make sure to vote on our live poll here on the website…
Good Investing,
Corey Williams
Category: ETFs, Sector ETFs, What's Going On?