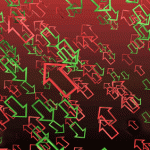 Today we're taking a look at ETF fund flows in iShares Russell 2000 (IWM), iShares Select Dividend (DVY), and SPDR S&P Dividend (SDY).
ETF fund flows are a valuable indicator of what traders are thinking.  It takes a lot of buying or selling to drive millions or even billions of dollars into or out of individual ETFs.
Fund flows are something traders use to find trends and gauge investor sentiment.  And it can help you pinpoint which ETFs could be next to make a big move higher or lower.
Let's take a look at the ETFs that experienced large inflows or outflows last week…
The ETF with the biggest inflow of new money last week was iShares Russell 2000 (IWM).  Investors poured $2 billion into IWM last week to lift the total assets in this ETF to $25.5 billion.
And for good reason…
First off, the recent economic data regarding consumers has been good.  Retail sales are growing, jobless claims are down, there are more job openings, and home sales are strong despite the recent rise in interest rates.
The economic momentum is a strong tailwind lifting small cap stocks that IWM holds.
However, the main reason IWM saw such a large inflow of money last week is likely because of its chart.  You see, IWM had been in a slump since reaching an all-time high of $111.62 on October 29th.
Amazingly, IWM failed to make a new high over the last three weeks while the S&P 500 made one new high after another.
But momentum began to turn back in favor of small cap stocks last week.  And on Friday, IWM made its first new high since October 29th.
Make no mistake, this breakout is bullish for IWM.  And it should lead to a strong performance for IWM and other small cap focused ETFs through the end of the year.
ETFs that focus on generating dividends didn't have the same amount of investor interest as IWM last week.  In fact, iShares Select Dividend (DVY) and SPDR S&P Dividend (SDY) experienced large outflows.  DVY lost $630 million while SDY lost $510 million in assets.
The large redemptions hitting DVY and SDY come despite the fact that DVY is up 27.4% and SDY is 28.8% so far this year and they're both at or near all-time highs.
It begs the question… is the outflow simply profit taking?  Or is there something else at play here?
Obviously, dividend investing appeals to a wide range of investors from individuals up to the largest institutional money managers.  And those investors that prefer to invest in stocks or ETFs that pay a large dividend are unlikely to change the way they invest.
In short, the outflow from DVY and SDY is nothing more than profit taking and not an indication of a major shift in investor sentiment toward dividend ETFs. 
That wraps up this week's ETF fund flows…
Keep in mind, there's a lot of information about ETF fund flows.  And it can be a very useful tool as long as you know what you're looking for.
Good Investing,
Corey Williams
Category: Dividend ETFs, ETFs, Index ETFs