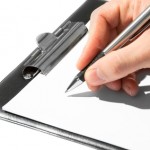 As you journey into trading ETFs, you'll find that these tools are well suited to many different types of investing. They are equally useful when used in long-term investing strategies, as well as short term or swing trading strategies.
No matter if you are an investor or a trader, one thing doesn't change… you should have an ETF list of exchange traded funds that you can quickly refer to.
What should you have on your ETF list?
Figuring out what ETFs to include on your list is no small task.   But doing a little legwork to establish a list will make choosing an ETF to buy a lot easier down the road.
One tool you'll find helpful is an ETF screener.
An easy way to create your ETF list is by breaking them down into groups. You can break them down according to investment type, geography, category, sector, or issuer.
The thing to remember is that the list should be suited to your investing style.
And you don't have to have one big list. You can have a few smaller lists of ETFs.
For example… one of my lists is a list of ETFs that track the different market-caps of the US stock market. I have ETFs like the SPDR S&P 500 (SPY), iShares Russell 2000 (IWM), SPDR Dow Jones Industrial Average (DIA), and the SPDR S&P Mid Cap 400 (MDY).
And another of my ETF lists is composed of all Select Sector SPDRs that each track a different sector of the S&P 500.
The point is, you can mix and match to give yourself a list of ETFs that helps you make investment decisions.
Tracking your ETF list…
Once you have developed a list of ETFs, you'll want to track those ETFs.
These days, tracking a list of ETFs should be done online. Most brokers offer an interactive website that you can create groups of ETFs that you can easily track.
One free website that I like is Financial Visualizations…
You can easily set up one or more lists of ETFs in the portfolio section on finviz.com to track your ETFs. Then you can easily see a chart of the ETF and any recent news that impacts the ETF.
Trading ETFs on your list…
The purpose of creating an ETF list is to streamline the decision making process so that it's easier to make buy and sell decisions.
So, once you've created the list and begun to track it… the next step is to actually buy an ETF.
As you can imagine, there are lots of trading strategies you can follow to make the decision to buy an ETF. There are strategies that use fundamental analysis. Other strategies use technical analysis. The ones I like best use a combination of fundamental and technical analysis.
One thing's for sure, everybody that uses ETFs as part of their investment strategy should have an ETF list that you can use to track ETFs that are important to you.
Good Investing,
Corey Williams
Note: Corey Williams writes and edits ETFTradingResearch.com. Sign up for our free ETF reports and free e-letter at http://etftradingresearch.com/free-sign-up. We're devoted to helping you make more money from ETFs.
Category: ETFs