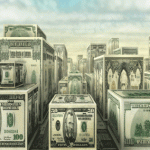 Generating enough money to live off of your investments is no easy task. But that's exactly what retirees are looking to do with their nest egg.
One investment that can help you increase the amount of income your retirement fund generates is a REIT ETF.
A REIT ETF is an ETF that invests in Real Estate Investment Trusts or REITs.
A publicly traded REIT acts a lot like a stock. But in order to be a REIT, the company must invest in real estate directly through properties or mortgages.
A REIT generates revenue from property rents or mortgage payments. So it's a business that has strong cash flow. The rents and mortgage payments are then used to pay investors regular dividends.
Owning a REIT ETF is a lot like owning a piece of many different investment properties. But owning a REIT comes without all of the headaches that come with actually owning the property yourself.
What's more, a REIT ETF spreads the risk of owning real estate across an entire basket of real estate investments instead of putting all your eggs in one basket.
The most popular REIT ETF…
There's one ETF that simply dwarfs all other REIT ETFs in terms of assets. The Vanguard REIT ETF (VNQ) has $30 billion in assets under management.
There's more money invested in VNQ than the next 10 largest REIT ETFs combined! Needless to say, VNQ is very popular among large and small investors alike.
VNQ invests in large cap REITs. VNQ covers about two-thirds of the US REIT market.
This popular ETF pays an annual dividend of $3.16. That's 3.6% dividend yield.
For broad exposure to the large cap US REIT market, there's no better option than VNQ.
A leveraged REIT ETF with monthly payments… 
Now, if you're looking for something a little more exciting… I've got just the thing!
The UBS ETRACS Monthly Pay 2x Leveraged Mortgage REIT ETN (MORL) is nothing like VNQ.
First off, VNQ is an ETN not an ETF. ETFs and ETNs have some similarities… they both track an index.
However, an ETF actually owns the assets in the underlying index. An ETN is only a promise from the issuer to pay the investor what the underlying index does. So, the investment is only as strong as the issuer.
And that's just the beginning…
MORL tracks an index of mortgage REITs. More specifically, it has monthly compounded 2x leveraged exposure to the Market Vectors Global Mortgage REITs Index.
It also pays a monthly dividend. You can see the current annualized yield on MORL here…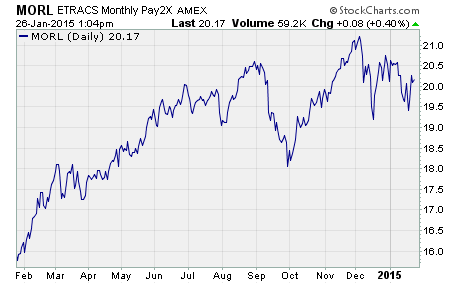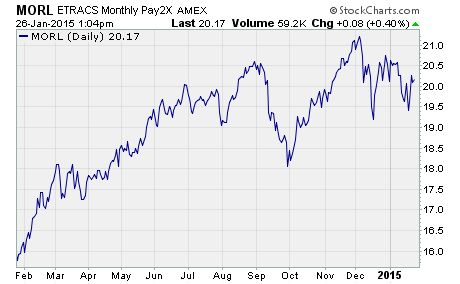 As far as I know, MORL is the only exchange-traded product with leveraged exposure to a mortgage REIT index offered on U.S. exchanges.
It comes with significant income potential from the variable monthly coupon that's linked to two times the cash distributions of the index constituents.
Obviously, if you're looking to really maximize the income from your investment dollars, then MORL is a unique investment with large monthly cash payouts.
As you can see, REIT ETFs come in a wide range of choices. There are ones that are stable and steady investments like VNQ. And there are also exotic and innovative investments like MORL.
But one thing's for sure, if you're an investor looking to generate more income from your investments, then you need to look into REIT ETFs.
Good Investing,
Corey Williams
Note: Corey Williams writes and edits ETFTradingResearch.com. Sign up for our free ETF reports and free e-letter at http://etftradingresearch.com/free-sign-up. We're devoted to helping you make more money from ETFs.
Category: Dividend ETFs