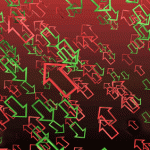 Investors continue to pump money into ETFs.
The holiday shortened week didn't keep investors from putting money to work. In fact, the amount of money in US listed ETFs climbed above $1.8 trillion last week.
ETFs that hold international or US stocks were the big winners.
These fund flows are a valuable indicator of what traders are thinking. It takes a lot of buying or selling to drive millions or even billions of dollars into or out of individual ETFs.
Fund flows are something traders use to find trends and gauge investor sentiment. And it can help you pinpoint which ETFs could be next to make a big move higher or lower.
The iShares Russell 2000 (IWM) had the largest inflow of new capital. IWM had net inflows of more than $2 billion.
The large inflow of money into the popular ETF for investing in US small-cap stocks is a clear indication investors are willing to take on more risk for the opportunity to reap higher returns.
Two other ETFs from iShares also saw large inflows last week as well. iShares Core S&P Mid-Cap (IJH) had net inflows of $1.6 billion and iShares MSCI EAFE (EFA) had net inflows of $1.0 billion.
Simply put, when the top three asset gaining ETFs pull in more than $4.5 billion in a week, it's an indication that investors still believe there's more upside for stocks.
Not surprisingly, the bullish fund flows for ETFs holding stocks was coupled with outflows for ETFs holding US Treasuries.
The iShares 7-10 Year Treasury Bond (IEF) led all ETFs with net outflows of $1.5 billion while the ProShares Ultra 7-10 Year Treasury (UST) lost nearly $600 million.
The bullish outlook for the US economy has clearly taken a toll on the bullish outlook for US Treasuries. In fact, the most recent jobs data was so good it may force the Fed to accelerate their timeline for interest rate hikes.
As the economy improves and interest rates rise, it will hurt the value of US Treasuries.
That wraps up this week's ETF fund flows…
Keep in mind, there's a lot of information about ETF fund flows. And it can be a very useful tool as long as you know what you're looking for.
Good Investing,
Corey Williams
Category: ETFs, Market Analysis
Corey Williams is the editor of Sector ETF Trader, an investment advisory service focused on profiting from ETFs and the economic cycle. Under Corey's leadership, the Sector ETF Trader has become one of the most popular and successful ETF advisories around. In addition to his groundbreaking service, Corey is the lead contributor to ETF Trading Research, where he shares his insights about ETFs and financial markets three times a week. He's also a regular contributor to the Dynamic Wealth Report and the editor of one the hottest option trading services around – Elite Option Trader.