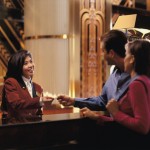 Sell in May and go away is a popular theme this time of year.  You'll see and hear it everywhere in financial news.
What Is Sell In May And Go Away?
Sell in May and go away comes from historical returns.  Stocks have performed better during the period from November to April than they have from May through October.
So, the theory is to hold stocks from November to April.  Then sell stocks in May and stay in cash until around Halloween.  Then you buy stocks again.  And you repeat the cycle every year.
For this reason, the same anomaly is also referred to the Halloween effect.
This is one of the most well know seasonal trades.  And it could be somewhat of a self fulfilling prophecy.
In other words, so many people hear about it that human behavior impacts market returns during the summer months.
Is Sell In May And Go Away Real?
There have even been many studies done to see why these periods produce different market returns over the last decade.
According to the Stock Trader's Almanac, the Dow Jones Industrial Average has returned an average of 0.3% from May to October while it has an average return of 7.5% from November through April.
Needless to say, that's a very real and very big difference.
Most academics won't even acknowledge that it's real.  But we don't exist in the academic world… we live and invest in the real world.
And studies that have been done by market analysts show there are substantial differences between these periods.
Most of these studies have come to the same conclusion… the anomaly is real and it's a result of human behavior.
As with most studies that involve studying human behavior, the true cause of sell in May and go away is still a mystery.
A Better Way To Sell In May And Go Away 
As the editor of Sector ETF Trader, I'm very aware of these seasonal patterns.
Here's the thing, selling all stocks and holding all cash from May to November isn't the best way to profit from this seasonality.
There are certain sectors and industries that do perform better than others during this six month period.  There are even studies that indicate which sectors tend to perform better during these two periods.
Instead of moving into all cash during the summer months, you can choose to move your investments into sectors that tend to perform well during these months.
You can incorporate seasonality into your trading system.
Of course, there are other things you need to consider as well. More recently the Dow and S&P 500 have had very strong returns during the summer months.
Needless to say, seasonality and human behavior certainly have an impact on stock market returns.  But it's not the only thing driving market returns.
1 ETF I Like For The Summer
One sector ETF I like to benefit from the seasonality is the PowerShares Dynamic Leisure & Entertainment Fund $PEJ.  As the name suggest, this ETF invests in stocks of resorts, hotels, cruises, and restaurants.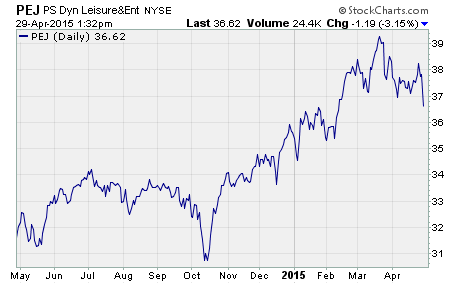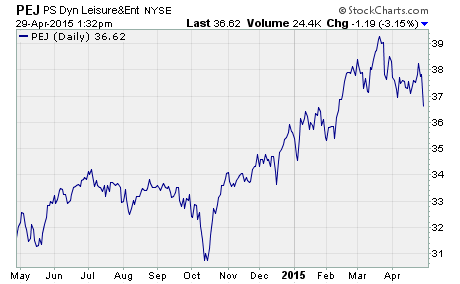 As you know, summer is also the time of year that many people take vacations.  And history has shown that these stocks tend to perform better than the overall market during the summer months.
Good Investing,
Corey Williams
Note: Corey Williams writes and edits ETFTradingResearch.com.  Sign up for our free ETF reports and free e-letter at http://www.etftradingresearch.com/free-sign-up.  We're devoted to helping you make more money from ETFs.
Category: Market Analysis