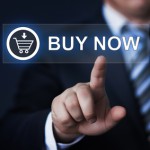 Over the last few months, the S&P 500 has been in a period of consolidation.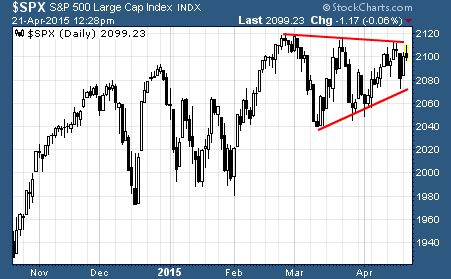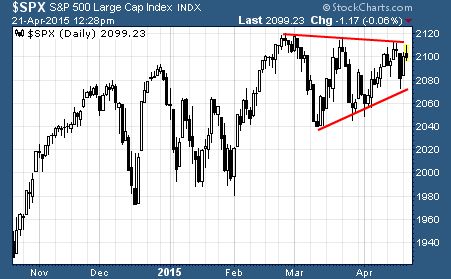 During that time, the price action of the large cap index has made a series of lower highs and higher lows.
As you can see, the chart of the S&P 500 resembles an amusement park thrill ride.  It's a big change for investors that have been accustomed to a steady march up and to the right over the last few years.
The thrill ride for the S&P 500 has been marked by periods of excitement and terror.  But in the end, we've ended up right where we began and cost investors money.
In fact, the S&P has failed to close at a new all-time high since March 2nd.  That's the longest the S&P has gone without closing at a new all-time high since the S&P got back to record highs in March of 2013.
Pay Attention To Investor Sentiment When Looking For Sector ETFs To Buy
As we typically see in periods of consolidation, investor sentiment is neither overly bullish nor overly bearish.
And there's no reason for investors to be overly excited right now.  US economic data has generally been weaker than expected and traders that were short oil have been run over as oil prices have rallied 25% in the last month.
One thing I'm looking to swing momentum is 1st quarter earnings.
Keep in mind, earnings expectations were low coming into earnings season.  So, it should be easier for companies to beat the lowered estimates, and even earnings in line with expectations could provide a tailwind for stocks.
But until we see the S&P 500 breakout of the consolidation, we'll continue to have more sideways trading like we have over the last few months.
Don't Forget About The Global Economy When Looking For Sector ETFs To Buy
The US economy isn't immune to changes in the global economy.
And right now, there are several things going on in European and Asian countries that could have an impact on US sector performance.
In Europe, the central bank has dropped interest rates so low they're actually negative.  That's right, they're paying people to borrow money!
And China is taking action to boost economic growth.  China's central bank has cut interest rates twice since November as well as reducing the reserve requirement ratio for Chinese banks.
In other words, money is cheap and banks have more money to lend.
Which ETF Is The Next Profitable Sector ETF To Buy? 
Identifying industries with positive macroeconomic themes is a critical part of the Sector ETF Trader strategy.
Sector ETF Trader identifies high-return potential ETFs based on a number of macro, fundamental, and technical indicators.  These indicators offer you the opportunity to participate in some very large moves in a relatively short amount of time.
And because it focuses on ETFs, you get the advantages of both stocks and mutual funds, without the problems of high fees and over-concentration.
Rather than taking a 'shotgun' approach to the market, I use a time-tested system like a scalpel to carve out those 'hidden gems' with the greatest chance of spectacular profits.
You can develop an ETF trading system like mine or you can let me do the heaving lifting for you.
It's not too late to pick up the most recent issue of the Sector ETF Trader.  But you'll need to take action now to avoid missing out.  Click this link to find out more about this easy method to identifying the most profitable sector ETFs around!
Good Investing,
Corey Williams
Note: Corey Williams writes and edits ETFTradingResearch.com.  Sign up for our free ETF reports and free e-letter at http://www.etftradingresearch.com/free-sign-up. We're devoted to helping you make more money from ETFs.
Category: Sector ETFs