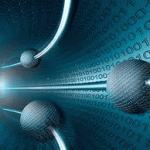 Over the last few weeks, we have seen many of the best tech stocks report better than expected earnings. Stocks like Apple (AAPL), Facebook (FB), and Google (GOOG) all had better than expected earnings last quarter.
The strong performance by technology stocks isn't going unnoticed by investors.
Despite concerns about a bubble in certain tech stocks, large cap growth stocks offer tremendous upside for investors.
What to look for in the best tech stocks…
When you're looking for the best tech stocks to invest in, there's a few things you need to keep in mind.
First off, technology stocks are cyclical. Demand for tech products and services are often tied to economic growth. So, a strengthening or improving economy can provide a nice lift to sales at technology companies.
Another thing about tech stocks is they're often considered momentum stocks.
This is often the case with fast growing companies in technology or any sector. A momentum stock often trades at higher price to earnings ratio than slower growing companies.
In other words, investors are willing to pay more for the stock today based on their future earnings potential.
This can send valuations for technology stocks sky high when viewed in terms of their current or past earnings. But the stock is often fairly valued based on the company's future earnings potential.
So don't be scared away from a good technology stock just because its valuation is high relative to other stocks. There's often a reason for the lofty valuation.
ETFs with the best tech stocks…
If you want to invest in the best tech stocks… an ETF is a great way to purchase a large group of stocks in one transaction.
The most popular technology ETF based on asset size is the Technology Select Sector SPDR (XLK). It has $12.7 billion in assets under management.
XLK gives you exposure to 72 technology stocks that are in the S&P 500. About 58% of the assets are in the top 10 holdings that include AAPL, FB, and GOOG.
Another of my favorite technology ETFs is the First Trust NASDAQ 100 Technology Sector Index Fund (QTEC). At $367 million in assets, it only has a fraction of the assets that XLK does.
QTEC holds stocks of companies in the NASDAQ 100 that are considered technology stocks. It currently has 41 stocks that are evenly weighted.
Here's an easy way to find even more technology ETFs. 
Both of these ETFs are a great way to invest in some of the best tech stocks. But there's another ETF that I'm even more bullish on.
Why social media ETF are the best tech stocks… 
Right now, social media stocks are the industry within technology that I'm most bullish on.
Here's why…
One of the biggest headwinds for multi-national tech stocks is the strong US Dollar. The strong dollar makes the products more expensive in foreign currencies or the earnings earned in another currency worth less when it is converted back to dollars.
But social media stocks are much more focused on the US than big tech companies. They get about 75% of their earnings from the US while the big tech stocks get about 50% of their earnings from the US.
This protects social media stocks from the strong US Dollar. And gives them the ability to outperform compared to other tech stocks that rely more heavily on earnings in other currencies.
One ETF that's solely focused on social media stocks is the Global X Social Media Index Fund (SOCL). This ETF is a great way to add exposure to these social media stocks.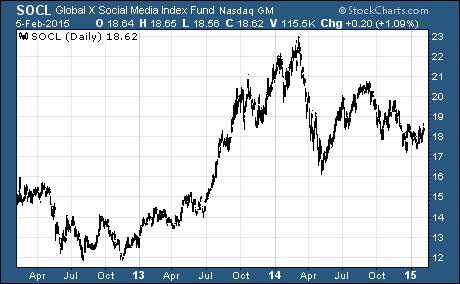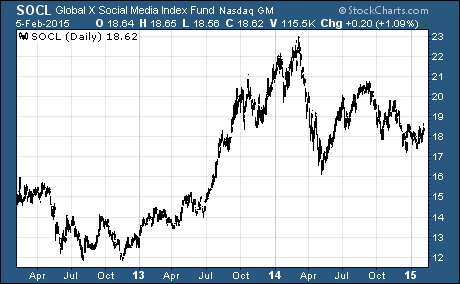 Good Investing,
Corey Williams
Note: Corey Williams writes and edits ETFTradingResearch.com. Sign up for our free ETF reports and free e-letter at http://etftradingresearch.com/free-sign-up. We're devoted to helping you make more money from ETFs.
Category: Sector ETFs