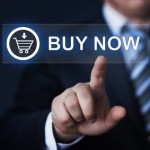 It's been a crazy rollercoaster ride for US stocks over the last month.  The S&P 500 had its first 10% correction in years.
In short, there's a lot of uncertainty.  And many believe slowing global economic growth will cause US economic growth to peak and slow in the months ahead.
Economic Data Impacting Sector ETFs To Buy In September
The Federal Reserve announced last week that they will keep interest rates steady in order to avoid inflation and keep a slowing economy to a minimum. The central bank has been hinting at the possibility of a hike before the new year and believe steady interest rates will help a slowing economy.
There is some good news, however, in the economy.  US jobless claims fell 11,000 to 264,000… the lowest it has been since mid-July.  This shows that the domestic economy remains somewhat resilient even with a slowing global economic outlook.
Investor Sentiment Signals Sector ETFs To Buy In September
Another thing to keep an eye on for buy signals is investor sentiment. Over the last few months, a majority of most investors have been sitting on the fence.
According to the AAII Investor Sentiment Survey (AAII ISS), investors have moved into a neutral stance. They're neither bullish nor bearish on stocks over the next six months.  The percentage of investors in a neutral position is at 37.6% according to the AAII ISS.
This follows the market trend of uncertainty, as investors are waiting to see a stronger global economy.
Price Action Signals Sector ETFs To Buy In September
Now, the S&P 500 is down 7% over the last month.  And that's after a 4.5% bounce off the recent low.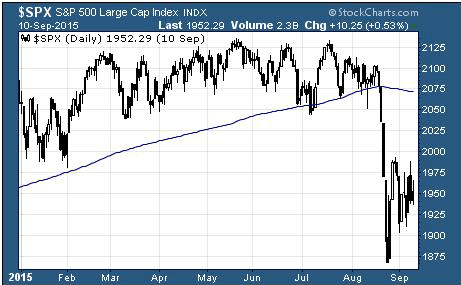 As you can see, the selloff sent the large cap index below the 200-day moving average.  This had been a critical support level.
Needless to say, this has done major damage to the multi-year bullish uptrend.
Now the S&P 500 is in no man's land.  It's well below the highs and the 200-day moving average.  But it's also well above the next technical support levels.
These Are The Sector ETFs To Buy In September
Identifying industries with positive macroeconomic themes is a critical part of the Sector ETF Trader strategy.
Sector ETF Trader identifies high-return potential ETFs based on a number of macro, fundamental, and technical indicators.  These indicators offer you the opportunity to participate in some very large moves in a relatively short amount of time.
And because it focuses on ETFs, you get the advantages of both stocks and mutual funds, without the problems of high fees and over-concentration.
Rather than taking a 'shotgun' approach to the market, I use a time-tested system like a scalpel to carve out those 'hidden gems' with the greatest chance of spectacular profits.
You can develop an ETF trading system like mine or you can let me do the heaving lifting for you.
It's not too late to pick up the most recent issue of the Sector ETF Trader.  But you'll need to take action now to avoid missing out.  Click this link to find out more about this easy method to identifying the most profitable sector ETFs around!
Good Investing,
Corey Williams
Note:  Corey Williams writes and edits ETFTradingResearch.com.  Sign up for our free ETF reports and free e-letter at http://www.etftradingresearch.com/free-sign-up.  We're devoted to helping you make more money from ETFs.
Category: Sector ETFs