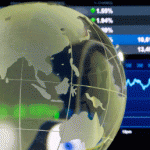 Over the last few years, Chinese leaders have implemented several economic and social reforms.  These changes are aimed at making things more efficient and allowing foreign investors to make direct investments inside China.
Many investors are using ETFs to invest in Chinese stocks.
One of the biggest changes has been the deregulation of the Chinese A-Share stock market.
What Are China A-Shares?
Chinese A-Shares are stocks of mainland China companies that are listed on the Shanghai or Shenzhen exchanges.
They were previously restricted to domestic investors.  Now the A-shares market is open to foreign investors.
Needless to say, navigating the different share classes and different exchanges can be confusing.  Up until recently, owning Chinese stocks meant the Hong Kong market.
But going forward, owning Chinese stocks is much more likely to mean owning China A-Shares.
Since they opened up A-Shares trading to foreign investors, the volume of these stocks trading hands has soared.   These stocks represent the true domestic Chinese stock market.  And the performance tracks how Chinese investors see their economy.
And here's the kicker… 
A-Class Shares have outperformed Chinese stocks listed on the Hong Kong and US exchanges.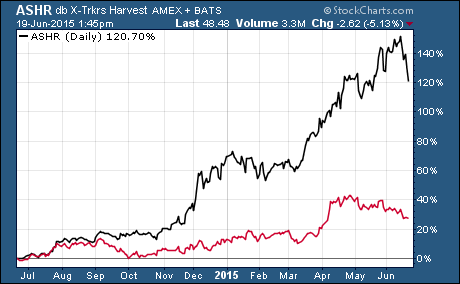 Needless to say, that's an epic bull market for Chinese stocks.
Not surprisingly, many ETF providers have seized the opportunity to bring China A-Shares to US investors via ETFs.
China A Shares ETF 
There are now several ETF providers that have ETFs that invest directly in China A-Shares.
Before they can offer the product, first they must apply to the Qualified Foreign Institutional Investor (QFII) program, which allows approved foreign institutional investors to access the A-Share market.
Then the ETF must be approved by the SEC before it starts trading on the US exchange.
Here's a list of 6 popular China A-Shares ETFs – 
Needless to say, these new China A-Share ETFs have become very popular among US investors after their strong performance over the last year.
But not everyone is convinced that the China A-Shares will continue to outperform.
China A Shares ETF For Doubters 
Slowing economic growth has cast doubt on China's ability to maintain the rally.
Some investors simply believe China A-Shares have come too far too fast over the last year.  After all, ETFs like $ASHR are up more than 120% over the last 12 months.
Now those doubters have an ETF to short China A-Shares.
Direxion just launched the Daily CSI 300 China A Share Bear 1x Shares $CHAD.
It's the first ETF to offer inverse exposure to China A-Shares. Its performance is designed to track the CSI 300 Index.  These are 300 of the largest and most liquid A-Share stocks listed on the Shenzhen or Shanghai Stock Exchange.
Here's the thing…
Opening up China A-Shares to foreign investors is a huge step forward for those who want to invest in Chinese stocks.
And China A-Shares ETFs make it easy for US investors to tap into this market that was previously off-limits to anyone outside of China.
Good Investing,
Corey Williams
Note: Corey Williams writes and edits ETFTradingResearch.com.  Sign up for our free ETF reports and free e-letter at http://www.etftradingresearch.com/free-sign-up. We're devoted to helping you make more money from ETFs.
Category: Foreign Market ETFs