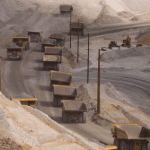 Over the last month, Freeport-McMoRan $FCX is up 20%.  That makes it one of the top performing stocks in the S&P 500 during that time.
ETFs with Freeport-McMoRan are a good way to get exposure to it and other stocks that are similar.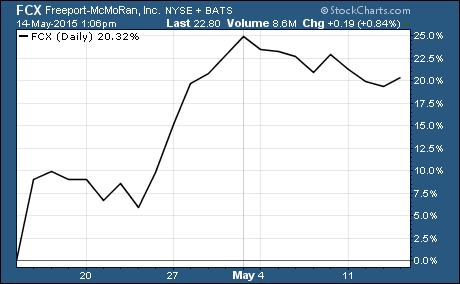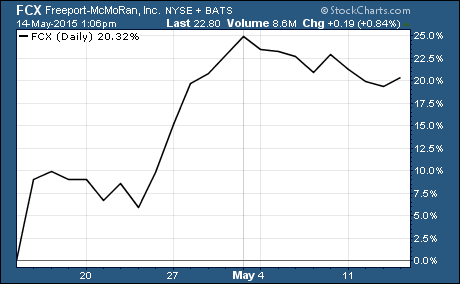 FCX primarily explores for copper, gold, molybdenum, cobalt, silver, and other minerals.  They're one the world's largest producers of copper.
Needless to say, copper prices have a big impact on FCX's stock price.
Not surprisingly, the uptick in FCX has coincided with an 8% increase in the price of copper over the last month.
There are three things that have helped fuel the uptick in copper prices. 
First off, there's US Dollar weakness.
The greenback had been rampaging higher over the last few months relative to foreign currencies.  But the dollar has been trading lower over the last month.
The drop in the value of the dollar makes commodities, like copper, that are traded in US Dollars more affordable in foreign currencies.
Investors are also less bearish about China than they were a few months ago.
China is the largest consumer of copper.  So, any positive news about China's economy provides a boost to copper prices.
The last thing that has helped lift copper prices is short-covering.
Copper has been widely shorted by hedge funds and other institution players.  Now that copper prices are beginning to rise, some of these players are closing out their short positions.
In order to close a short position, they must buy back the shorted position.  This creates a short covering rally that helps drive prices higher.
The combination of US Dollar weakness, improvement in China, and a short covering rally have all contributed to a strong move to the upside in copper prices.
FCX and other companies like it are in line to benefit from more upside in copper prices.
Here are 2 ETFs with Exposure to Freeport-McMoRan…
First Trust ISE Global Copper Index Fund $CU and Global X Copper Miners ETF $COPX both have significant holding of FCX.
FCX makes up 8.61% of CU.  This ETF tracks an index of 23 global copper producers. It has an expense ratio of 0.71% and it's up 15.7% over the last month.
COPX allocates 4.83% of its holdings to FCX.  This ETF holds 29 publicly traded copper mining stocks from around the world.  It also has an expense ratio of 0.65% and it's up 14.7% over the last month.
ETFs with Freeport-McMoRan Holdings…
CU and COPX hold many of the same stocks.  But they do it in different ways and weight the holdings of each stock differently.
CU tracks the ISE Global Copper Index.  The stocks are weighted according to the amount of revenue derived from the sale of copper.  More than 62% of this ETF's holding are concentrated in the top 10 holdings.
COPX tracks the Solactive Global Copper Miners Index.  It includes US stocks, as well as ADRs and GDRs of companies actively involved in copper mining, refining, or exploration.
Other ETFs with Freeport-McMoRan Holdings…
There are plenty more ETFs with exposure to FCX.  In fact, I see 72 ETFs when I run a screener for ETFs with exposure to FCX. 
And ETFs with FCX aren't the only way to invest in copper ETFs.
Good Investing,
Corey Williams
Note: Corey Williams writes and edits ETFTradingResearch.com.  Sign up for our free ETF reports and free e-letter at http://www.etftradingresearch.com/free-sign-up. We're devoted to helping you make more money from ETFs.
Category: Commodity ETFs