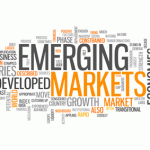 Emerging markets have taken a backseat to US stocks in recent years.  US stocks have raced higher while emerging market stocks haven't gone anywhere.
Now emerging market stock ETFs are outperforming US stock ETFs.
In fact, iShares MSCI Emerging Markets ETF $EEM is up 12.7% over the last two months.  Over the same time, the S&P 500 is only up 3.7%.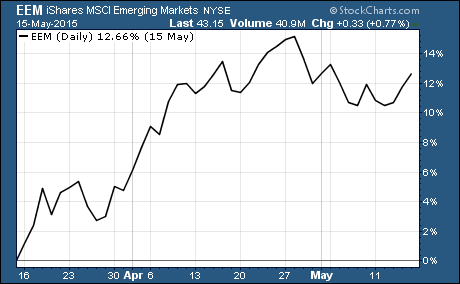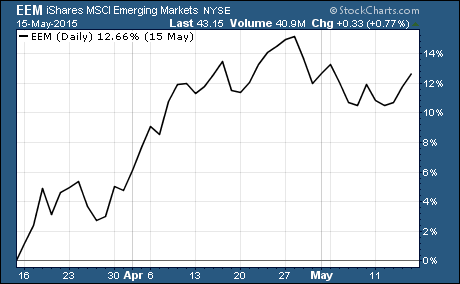 Not surprisingly, the strong performance of emerging market stocks is drawing more money into emerging markets ETFs.  EEM alone has gained nearly $1.5 billion over the last few months.
Now emerging markets ETFs are surging higher again after a brief pullback at the end of April.
Emerging Markets ETFs Leading In May
First Trust Emerging Markets AlphaDex Fund $FEM is the top performing emerging market ETF so far this year.  It's up 18.9% year to date.
Any time you see 'AlphaDex' in the name of an ETF, it's an indication that the ETF doesn't follow a traditional market-cap weighting.
In other words, the index is designed to select stocks that are expected to outperform traditional market-cap weighting.
That's not always the case with AlphaDex ETFs.  But in this case, the 159 stocks that FEM owns are outperforming.
FEM also comes with a large expense ratio of 0.8%.  But that's not unusual among ETFs that use alternative indexing strategies.
Another emerging market ETF that has been moving higher recently is the PowerShares DWA Emerging Market Technical Leaders Portfolio $PIE.
PIE is designed to track 100 emerging market stocks that possess powerful relative strength characteristics.   It's up more than 8% over the last week alone.
Needless to say, it's interesting to see ETFs, like PIE and FEM, that don't use a traditional market-cap weighting leading the market.
Emerging Markets ETFs Lagging In May
The strong performance of emerging market stocks this year isn't good news for investors that used an ETF like ProShares Short MSCI Emerging Markets $EUM.
EUM is designed to move in the opposite direction of emerging markets stocks.  It has lost more than 10.5% of its value, mirroring the 10.5% gain in the emerging markets index that it tracks.
In other words, anyone who owned this ETF expecting emerging markets stocks to go down has seen the value of their investment fall in value.  
We've seen that ETFs like FEM that track indexes that follow unique indexes of stocks are outperforming.  And we've seen that shorting emerging markets hasn't been a wise investment for investors.
Now's the most important question…
What Emerging Markets ETFs Will Lead The Rest of May?
I've mentioned currency hedged ETFs were worth owning before.
However, the weakness of the US Dollar has been one of the biggest tailwinds for emerging market stocks…. the US Dollar Index is down 6.3% over the last few months.
I believe the US Dollar will continue to trend higher.
The hedging of currency headwinds also hedges you against the tailwinds it can provide your investments.  This can lead currency hedged ETFs to outperform or underperform during times of currency volatility… but that's the point.
If you don't want currency fluctuations impacting your foreign stock returns, then take a look at the iShares Currency Hedged MSCI Emerging Markets $HEEM.
Good Investing,
Corey Williams
Note: Corey Williams writes and edits ETFTradingResearch.com.   Sign up for our free ETF reports and free e-letter at http://www.etftradingresearch.com/free-sign-up. We're devoted to helping you make more money from ETFs.
Category: Foreign Market ETFs