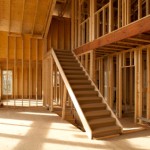 I'm always on the lookout for signs about the housing recovery. Some of those signs are literally signs – For Sale and Open House signs – while others are economic data points.
In my neighborhood, I can tell you that housing prices bottomed in early 2011 and climbed steadily higher for nearly three years. But home prices have cooled off over the last six months as supply and demand of homes have come into balance.
Needless to say, when the real estate market is on the upswing, it provides a tremendous amount of lift to the overall economy.
One troubling sign for the housing market is the slow recovery in new home construction. One of the biggest reasons for the slow recovery is the lack of credit available for new home construction.
It's much harder to qualify for a construction loan than it is to qualify for loan to purchase an existing home. And forget about loans to small builders looking to develop land and build homes on specs.
Since the real estate bubble burst in 2006, this has been a cash game. It's mostly big builders with access to money from non-bank lending and private money that are able to get these deals done.
The lack of credit available has made it difficult for a true rebound in new home construction to get off the ground. The good news is, construction lending by banks is finally coming back.
According to the FDIC, the volume of outstanding construction loans on banks' balance sheets has grown for four quarters in a row. They increased 4.5% in the first quarter.
The increase in construction lending is a very positive sign for homebuilders. It means the banks are starting to lend on construction projects again. And that should help fuel an increase in new home construction.
That's good news for homebuilders and homebuilder ETFs. Let's take a look at three Homebuilder ETFs…
SPDR S&P Homebuilders ETF (XHB)
XHB is a popular ETF with $1.6 billion in assets. At a current price of $31.63, this ETF has had a solid 73% return over the last three years. But it hasn't done much over the last year and it's down 5% so far in 2014.
This ETF tracks the S&P Homebuilders Select Industry Index. It measures the homebuilding portion of the S&P Total Market Index. It's an equal weighted market cap index.
XHB currently holds 36 stocks and has a combined dividend payout of 0.34%. It has an expense ratio of 0.35%.
As the name suggests, XHB contains stocks in the Building and Construction sector. Some of its major holdings include DR Horton (DHI), Home Depot (HD), and Whirlpool Corp (WHR).
iShares U.S. Home Construction ETF (ITB)
ITB is another ETF in the Homebuilding sector. At a current price of $24.17, this ETF's returns over the last year have been lackluster. But it is up 2.7% this week and it's outperforming XHB over the last three years with a gain of 84.5%.
This ETF's Index measures the performance of the home construction sector of the U.S. equity market.
ITB currently holds 34 stocks and has an expense ratio of 0.48%. It has a dividend payout of 0.18%.
ITB holds companies that are solid U.S. residential building companies. Its biggest holdings include Lennar (LEN), Toll Brothers (TOL), and Pulte Group (PHM).
PowerShares Dynamic Building & Construction ETF (PKB)
PKB is another Homebuilding ETF and has a current price of $21.79. This ETF is outperforming ITB and XHB with a gain of 6.4% over the last year.
This ETF has managed to outperform over the last year because of the unique weighting system. It uses the Intellidex index made up of U.S. building and construction companies. The Index is designed to provide capital appreciation by thoroughly evaluation companies based on a variety of investment criteria including risk factors, growth, and stock valuation.
PKB currently holds 30 stocks and has an expense ratio of 0.6%. It has a dividend payout of 0.36%.
Here's the upshot…
The volume of construction loans on the books is on the upswing. The steady increase over the last year is a good sign for homebuilders. They need access to credit in order to grow.
Good Investing,
Corey Williams
Category: ETFs, Sector ETFs