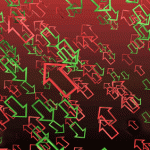 A volatile month for the stock market ended with a Happy Halloween.
Amazingly, the S&P 500 has completely erased the 10% pullback it suffered from September through October. The large cap index is now right at the previous high of 2,019 it set before the selloff began.
Needless to say, we've seen some interesting swings in ETF fund flows, investor sentiment, and the emotions driving investor behavior.
Last week there were strong net inflows into several broad based stock ETFs.
The largest inflows were into the iShares Russell 2000 (IWM) with $3.1 billion, SPDR S&P 500 (IWM) with $2.5 billion, and the PowerShares QQQ (QQQ) with $1.4 billion.
That's $7 billion into a wide swath of US stocks. These are the type of money flows that indicate institutional money is moving into them.
More than likely some of these same money managers were pulling money out of the market when stocks were moving lower a month ago. And now that they've been caught on the wrong side of the trade, they're quickly dumping money back into these broad based ETFs.
The large inflow of money into US stock ETFs was accompanied by strong bullish investor sentiment.   The American Association of Individual Investors Sentiment Survey showed bullish sentiment held steady at 49% last week.
And even more investors dropped their bearish outlook for the next six months. Only 21.1% of investors expect stocks to be lower during that time.
Simply put, individual investors continue to be extremely bullish on stocks. Not surprisingly, we've seen some signs of greed creep back into the marketplace.
Most notably, market volatility and price momentum have swung back from levels that indicate extreme levels of fear. And they are quickly moving toward levels that are indicative of greed being the dominant emotion in the market.
However, there are several measures of fear in the market that indicate investors are still behaving in a more cautious and fearful manner than they have during much of the last few years.
Judging by the outflow of money from Materials Select Sector SPDR (XLB) and the First Trust Materials AlphaDEX (FXZ), much of that fear is being directed toward the materials sector. XLB had outflows of $767 million and FXZ had outflows of $622 million to lead all US ETFs in net outflows.
Clearly, there are some interesting dynamics in the market right now…
The extreme levels of fear that drove the S&P 500 to a 10% pullback have ended. The S&P 500 and other major stock market indices are back at all-time highs. Investor sentiment has recovered quickly but there are still some lingering signs of fear in the market.
I'm expecting the market to pause to catch its breath at this point. But we should see more money flow into ETFs as investors get in position for a strong finish to the year.
Good Investing,
Corey Williams
Category: ETFs, Market Analysis