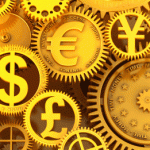 More and more ETF providers are jumping on the currency hedged ETF bandwagon.  Link currency hedged ETF to
And for good reason… investors can't get enough of them.
One of the latest ETF providers to throw their hat into the ring of currency hedged ETFs is Direxion.  In fact, they're the first to offer a leveraged currency hedged ETF.
Why Is Currency Hedging So Popular? 
Simply put, currency hedging is popular because the US Dollar is strong.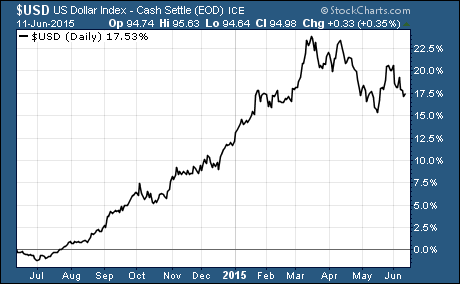 Remember, when you buy a stock in a foreign country, first you must convert your dollars into the foreign currency in order to buy the shares.  Then when you sell the stock, it is sold in the foreign currency and converted back into US Dollars.
If the US Dollar continues to strengthen against currencies like the Euro and the Yen, then it hurts the returns US investors make on stocks in Europe and Japan.
A currency-hedged strategy seeks to provide exposure to these stocks while removing or hedging out the headwinds from foreign currency fluctuations.
Let's take a closer look at the two new leveraged currency hedged ETFs from Direxion… 
Europe Leveraged Currency Hedged ETF 
Daily MSCI Europe Currency Hedged Bull 2x Shares $HEGE offers 200% exposure to the MSCI Europe US Dollar Hedged Index.
This index includes large- and mid-cap stocks across 15 European countries considered to be developed-markets. It hedges exposure to the USD.  The expense ratio is capped at 0.95%.
Japan Leveraged Currency Hedged ETF 
Daily MSCI Japan Currency Hedged Bull 2x Shares $HEGJ is designed to give investors returns that are 200% to the MSCI Japan US Dollar Hedged Index.
This index tracks large- and mid-cap Japanese stocks.  It hedges the US Dollar. The expense ratio is capped at 0.95%.
The President of Direxion, Brian Jacobs, is optimistic about the reception the first leveraged currency hedged ETFs will receive.
He said, "There is a significant demand for magnified market exposure to currency-hedging equity strategies.  With the U.S. dollar continuing to demonstrate strength against rival developed-market currencies, mitigating currency risk is a key concern for traders focused on international markets."
It will be interesting to see how big the inflows will be into these new ETFs over the first few months.  It will depend in part on the US Dollar.  If the US Dollar continues to strengthen, it should push more traders into these ETFs.
One thing's for sure, currency hedged ETFs are here to stay.  Their popularity will ebb and flow based on the US Dollar.  Periods with a strong US Dollar will make these currency hedged investments more popular.
Here's how you can find more Currency Hedged ETFs.
Good Investing,
Corey Williams
Note: Corey Williams writes and edits ETFTradingResearch.com.  Sign up for our free ETF reports and free e-letter at http://www.etftradingresearch.com/free-sign-up. We're devoted to helping you make more money from ETFs.
Category: Currency ETFs, Foreign Market ETFs
Corey Williams is the editor of Sector ETF Trader, an investment advisory service focused on profiting from ETFs and the economic cycle. Under Corey's leadership, the Sector ETF Trader has become one of the most popular and successful ETF advisories around. In addition to his groundbreaking service, Corey is the lead contributor to ETF Trading Research, where he shares his insights about ETFs and financial markets three times a week. He's also a regular contributor to the Dynamic Wealth Report and the editor of one the hottest option trading services around – Elite Option Trader.