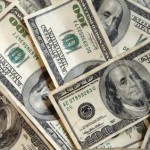 Today's market is one of the most difficult for income investors.
The 30-year US Treasury is near an all-time low, things like money market accounts pay next to nothing, and many income producing investments have become too expensive. A dividend ETF could be just the thing to help income investors get the most out their investments.
A dividend ETF is an ETF that tracks an index of stocks that pay a regular dividend.
The ETF passes the dividend payments along to the investor. These dividend payments are the income many people live off of during retirement.
The advantages of a dividend ETF…
Using an ETF to invest in dividend stocks comes with many advantages.
The biggest advantage is diversification.
Each dividend ETF is made up of many different stocks that pay a dividend. So, the purchase of an ETF automatically allocates your money over a basket of stocks. This reduces the risk any individual stock poses to your investment.
This reduces the amount of time and energy you need to put into your investment research.
Think of it this way…
If you invest in 30 or 40 dividend producing stocks, you'll need to monitor each company to make sure they continue to meet your requirements for dividend yield, payout ratio, and any other fundamental data you deem important.
However, if you invest in an ETF that tracks an index of stocks, you're assured that the companies in the portfolio meet your requirements. If a company's situation changes, then the stock will automatically be removed from the ETF.
Needless to say, tracking 30 or 40 stocks can be very time consuming. An ETF is a great way to save you lots of time researching and monitoring dividend stocks. And we all know, our time is the most valuable thing we have.
Here's an easy way to find the right ETF for you.
Another advantage to dividend investing with ETFs is low costs.
Other types of funds like mutual funds typically have higher expenses than ETFs. The lower cost of ETFs means more of the dividend ends up in your pocket rather than fund managers.
My favorite dividend ETF… 
My favorite dividend ETF is the Dividend Appreciation ETF (VIG).
VIG tracks the Dividend Achievers Select Index. In order to be included in this index, the stock must have a history of increasing its dividend for 10 consecutive years.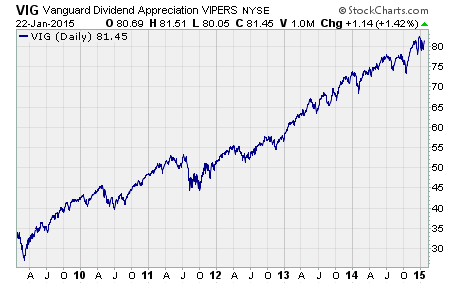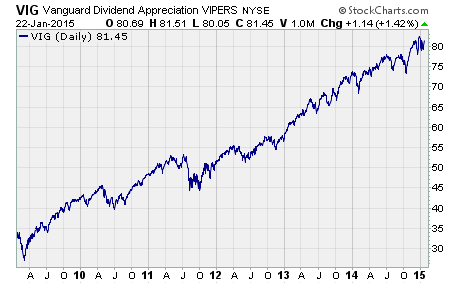 As any income investor can attest, a company that regularly increases its dividend is a powerful ally. The larger the payout grows, the higher the yield becomes based on your purchase price.
VIG is a great dividend ETF for income investors that are concerned about how much income their investment will generate today and in the future.
A new dividend ETF on the horizon… 
One of the great things about the ETF industry is innovation. Competition among ETF providers is constantly creating new ETFs designed to help investors achieve their investment goals.
iBillionaire is an index creator behind the Direxion iBillionare ETF (IBLN). The ETF tracks a group of stocks that are owned by the most successful billionaire investors.
Just this week, iBillioinaire launched a new index. It's the iBillionaire High Dividend Index. It's a basket of 50 high dividend stocks held by a select pool of billionaires.
Amazingly, the index has a yield of 5.34%! You can bet there will be an ETF that tracks this index before long… so keep an eye out for this ETF that could be the next big development for dividend ETFs.
Good Investing,
Corey Williams
Note: Corey Williams writes and edits ETFTradingResearch.com. Sign up for our free ETF reports and free e-letter at http://etftradingresearch.com/free-sign-up. We're devoted to helping you make more money from ETFs.
Category: Dividend ETFs