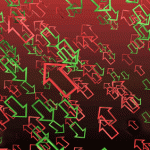 The S&P 500 shook off the disturbing geopolitical headlines and climbed to a new all-time high of 1,991 last week. However, the ETF fund flows indicate investors were hesitant to put more money into stocks as the large cap index reached new highs.
As you know, fund flows are a valuable indicator of what traders are thinking. It takes a lot of buying or selling to drive millions or even billions of dollars into or out of individual ETFs.
Fund flows are something traders use to find trends and gauge investor sentiment. And it can help you pinpoint which ETFs could be next to make a big move higher or lower.
The SPDR S&P 500 (SPY) had the biggest outflow among US listed ETFs. It had $2.8 billion in net outflows during the week.
It's never a good sign to see large outflows from SPY. This ETF is widely used as a proxy for US stocks. The large outflow could be a sign that investors are losing faith in the rally that has pushed SPY more than 8% higher so far this year.
We also saw outflows outpace inflows on a number of other stock ETFs last week.
The tech heavy PowerShares QQQ (QQQ) had outflows of $785 million and the European stock ETF iShares MSCI EMU (EZU) had outflows of $492 million.
The large outflows across a wide swath of US and European stock ETFs are something that needs to be watched closely. If this trend continues, it could be an early indication of a stock market correction.
What's more, we saw a pair of unusual ETFs lead the way in net inflows last week…
The PowerShares S&P 500 Low Volatility ETF (SPLV) and Vanguard Total Bond Market (BND) were the top asset gainers among all US listed ETFs last week.
When low volatility and bond ETFs are the leading asset collectors, it's basically a vote of 'no confidence' in stocks. This is another sign that stocks may not be able to continue to climb the 'wall of worry' as they have been over the last few months.
Here's the thing…
Heightened geopolitical risks have driven ETF investors out of SPY and other stock ETFs for two consecutive weeks. This is a reversal of the bullish inflows we had seen into the same ETFs over the prior weeks.
This could be an early indication that a correction is looming… proceed with caution.
That wraps up this week's ETF fund flows…
Keep in mind, there's a lot of information about ETF fund flows. And it can be a very useful tool as long as you know what you're looking for.
Good Investing,
Corey Williams
Category: ETFs, Market Analysis