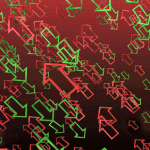 January was a horrible start for the stock market.  The S&P 500 is down 5% this year and 8.5% below the 52-week high.  The January ETF Fund Flows show investors generally sold ETFs holding stocks and bought ETFs that hold safe investments like US Treasuries.
Let's dive into the details of the January ETF fund flows and other sentiment indicators that are driving the market action.
The Emotion Driving January ETF Fund Flows
We track several indicators of fear and greed.  In January, indicators of fear outweighed indicators of greed… and it wasn't even close.
Just about every indicator we track shows fear.  Market volatility, bearish momentum, demand for bonds, and the number of stocks reaching 52-week lows are all indicative of high levels of fear in the market.
There's no doubt about it, fear has been in control of this market.
ETFs With The Largest Inflows In January
A trio of Treasury bond ETFs from iShares were among the ETFs with the biggest net inflows in January.
Investors poured nearly $5 billion into iShares 20+ Year Treasury Bond ETF $TLT, iShares 7-10 Year Treasury Bond ETF $IEF, and iShares 1-3 Year Treasury Bond ETF $SHY.
This trend is a clear confirmation of the fear that is dominating the investor psyche.
But we also saw some bargain shoppers pump $839 million into United States Oil Fund $USO.  So, there are some investors that couldn't resist positioning themselves for a rebound in oil prices.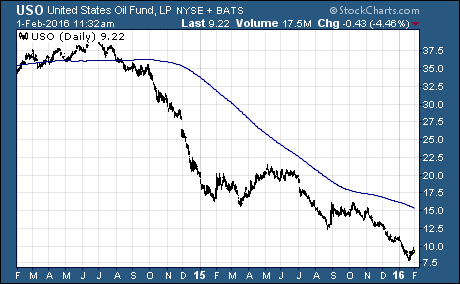 ETFs With The Largest Outflows In January 
Outflows hit a wide swath of ETFs that hold stocks.  It didn't matter if the ETF held US or foreign stocks, outflows outpaced inflows across the board.
iShares MSCI Emerging Markets ETF $EEM was hit with $1.7 billion in outflows.  But the SPDR S&P 500 $SPY and PowerShares QQQ $QQQ both eclipsed that total with more than $2.1 billion outflows from each.  
And the WisdomTree Europe Hedged Equity $HEDJ and WisdomTree Japan Hedged Equity $DXJ followed a weak December with more outflows in January.
Here's the bottom line…
The poor start to the year sparked fear of a major correction in stocks around the globe.  Investors gravitated toward safe investments in January.  But we did see a bit of risk taking appear toward the end of the month as investors poured money into USO as they placed their bets on a rebound in oil prices.
What's more, several indicators of fear finished off their lowest levels of the year.  This could set the stage for a market bounce in February.
Good Investing,
Corey Williams
Note: Corey Williams writes and edits ETFTradingResearch.com.  Sign up for our free ETF reports and free e-letter at http://www.etftradingresearch.com/free-sign-up.  We're devoted to helping you make more money from ETFs.
Category: Market Analysis