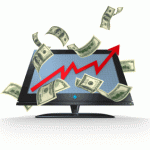 Janet Yellen held her first policy meeting as the chairman of the US Federal Reserve this week.  It didn't take long for her to change the Fed's game plan.
In short, the Fed dropped the target unemployment rate and instead will look at a 'wide range' of economic data in deciding when to raise interest rates.
Furthermore, she went onto say the 'considerable time' between when the Fed's bond buying program ends and interest rate hikes begins could be around six months.
That puts the first rate hike in the first half of 2015.  Many had believed the first rate hike would be in the second half of 2016.
In other words, interest rates are going up sooner than expected.
Needless to say, the Fed's policy changes took the market by surprise.  And it's changing the balance of power among US sectors.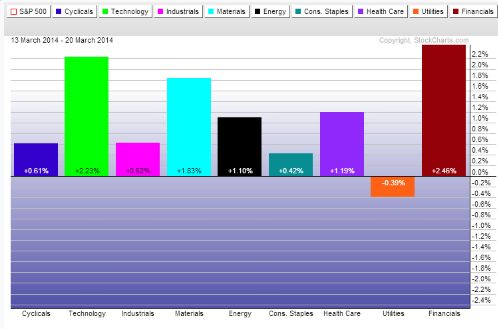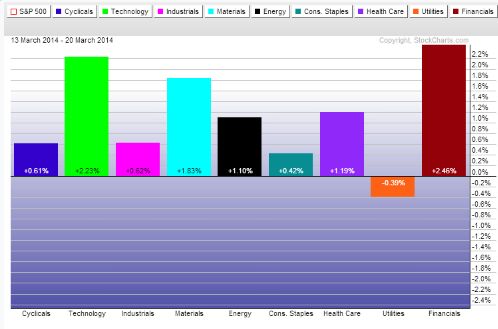 As you can see, the utilities sector was the worst performing sector over the last week.  As interest rates rise, utilities appeal as a high yielding investment loses some of its luster.   
At the same time, the financial and technology sectors have been the best performing sectors over the last week.  These sectors typically do well in a rising interest rate environment.
And that's not the only good news for financials…
The Fed's annual 'stress test' showed the biggest US banks are able to survive a severe recession.  29 of 30 banks passed the stress test.
In short, the financial industry is stable and generating more profits.
Here's the upshot…
The Fed's decision to put a more defined time frame on the first interest rate hike will have an impact on sector performance.  The financial sector looks to be the clear winner.  While the utilities sector looks to be the biggest loser. 
Good Investing,
Corey Williams
Category: ETFs, Sector ETFs