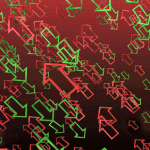 Money came flooding into ETFs last month.
Overall, there was $26 billion more inflows than outflows.  That's a tremendous amount of money coming into ETFs.
Let's take a closer look at the November ETF fund flows and see what other sentiment indicators say about the emotion driving the market action.
The Emotion Driving November ETF Fund Flows
We track several indicators of fear and greed.  And they are split between fear and greed.
Stock market indicators, like the number of advancing versus declining stocks and the number of stocks reaching 52-week highs, are better than they have been in months.
At the same time, indicators that aren't related to the stock market show there's still something out there keeping investor greed in check.
More than anything, the current emotional state can be described as a lack of fear.
And we can see this reflected in the ETF inflows and outflows.
ETFs With The Largest Inflows In November
A trio of iShares ETFs enjoyed the largest ETF fund flows in November.
iShares Russelll 1000 $IWB had net inflows of $2.55 billion, iShares Core US Aggregate Bond $AGG added $2.45 billion, and iShares Russell 2000 $IWM had $2.26 billion in inflows.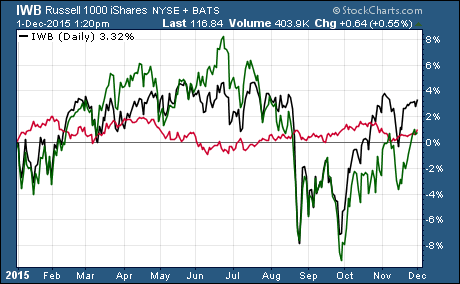 That's a large influx of money into US stocks and bonds.  It's the type of fund flows that reflect a lack of fear but without any specific bullish bias.
However, one ETF with $844 million in net inflows is a bullish indicator worth noting… that ETF is the United States Oil Fund $USO.
USO tracks the value of WTI crude oil futures on the NYMEX.  The large influx of money into USO is a bet on oil moving higher in the near future.
ETFs With The Largest Outflows In November
Interest rate sensitive ETFs were the big losers in November.  This makes sense given the market's view of a potential Fed interest rate hike in December.
iShares 1-3 Year Treasury Bond $SHY led all ETFs with 1.3 billion in outflows.  And several other ETFs that hold Treasuries followed suit.  More than $3 billion exited ETFs that hold Treasuries during the month.
Another ETF hit with a large outflow was the SPDR Gold Trust $GLD.  This ETF that tracks the price of gold saw more outflows as the price of gold fell to the lowest level in five years.
Here's the bottom line…
There is a constant give and take between fear and greed in the financial market.  We are in a transitional time where the fear has subsided but greed hasn't taken control. This type of environment is prone to long periods of range bound trading until something spurs investors to take action.
But one thing's for sure, the fund flows reflect sentiment toward oil and gold are going in opposite directions.
Good Investing,
Corey Williams
Note: Corey Williams writes and edits ETFTradingResearch.com.  Sign up for our free ETF reports and free e-letter at http://www.etftradingresearch.com/free-sign-up.  We're devoted to helping you make more money from ETFs.
Category: Market Analysis