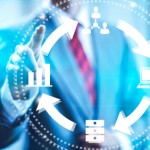 It has been a scary market for most investors over the last few months.  Many investors are asking if there are any good Sector ETFs In July.
And for good reason…
All of the headlines are about a bubble in China's stock market and Greece defaulting on debt and leaving the EuroZone.  The ebb and flow of fear and hope have triggered numerous rallies and selloffs over the last few months.  But they've all been short lived.
It's times like these that it's important to have a trading system.
Over the last three months, the S&P 500 is down about 2%.  This chart of the SPDR US sector ETFs shows just how hard it has been to find a sector that has been racking up big gains.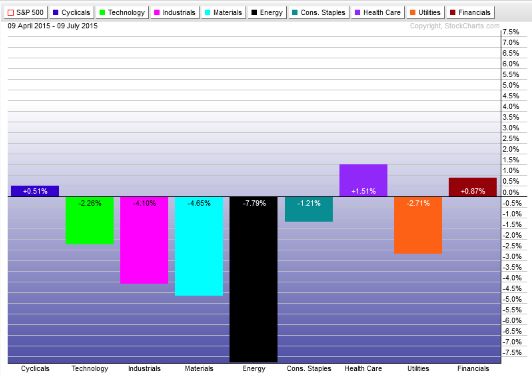 There were winners and losers among the individual sectors.  More often than not, we can use these sector movements to generate strong investment returns.
Sector ETFs Leading In July
As you can see, the last three months have been tough on all US sectors… only 3 of the 9 US sectors are positive during that time.  And the gains they have seen have been minimal.
Consumer Cyclical, Health Care, and Financials are the only sectors that have posted gains over the last three months.  $XLY is up 0.51%, $XLV is up 1.51%, and $XLF is up 0.87%.  Needless to say, we're going nowhere fast when those are the biggest sector gains over a 3-month period.
Here's the thing…
These returns aren't indicative of the underlying fundamentals in each sector.  These returns are being depressed by the uncertainty created by the Greek drama and China stock market bubble speculation.
Sector ETFs Lagging In July
Six of the nine US sectors are down over the last three months.
Energy stocks have suffered the most.  $XLE is down 7.79% over the last three months.  The sector is clearly still dealing with some lingering effects of the oil crash.  And I still think there is more volatility to come for oil prices.
This isn't the first time that oil prices have been crushed.  In the past, energy stocks have struggled to rebound over the next 12 months even as oil prices have rebounded or stabilized.
Two other cyclical sectors, Materials and Industrials, are also lagging over the last 3-months… $XLB is down 4.65% while $XLI is down 4.10%.  The underperformance of these two sectors is a clear indication that investors aren't expecting global economic growth to accelerate.
What Sector ETFs Will Lead The Rest Of July?
The last few months have been dominated by fear and uncertainty about Greece and China.  Those concerns aren't going away anytime soon.  But the recent actions taken by China and Greece should be enough to put these concerns on the back burner for now.
Investors will turn their attention to quarterly earnings reports.  The majority of S&P 500 companies will report second quarter earnings over the next few weeks.
As we move into the thick of Q2 earnings season, I'm most optimistic about the potential for the Health Care sector to outperform based on better than expected earnings.  At the same time, I think the Utilities sector will have the hardest time outperforming based on Q2 earning performance.
Good Investing,
Corey Williams
Note: Corey Williams writes and edits ETFTradingResearch.com.  Sign up for our free ETF reports and free e-letter at http://www.etftradingresearch.com/free-sign-up.  We're devoted to helping you make more money from ETFs.
Category: Market Analysis