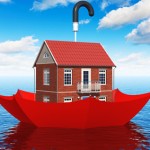 Chubb $CB is the top performing stock in the S&P 500 over the last month. CB is up more than 25% during that time.  Savvy investors are buying ETFs with Chubb and other insurance companies to get exposure to it and other stocks that share important characteristics with it.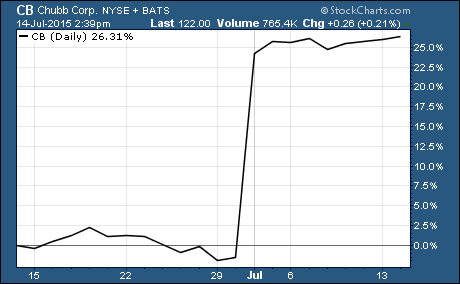 Chubb is the 12th largest property and casualty insurer in the US.  Last year they reported $51.3 billion in assets and $14.1 billion in revenue.  They have 120 offices in 25 countries and 10,200 employees.
As you can see, the big spike in CB's stock price occurred all at once.  In fact, it happened when the markets weren't even open.
What caused CB's share price to surge from $95 to $120 overnight?
You guessed it… another company is buying CB.
Ace Limited $ACE, another insurer, made a $28.9 billion offer to buy CB.  The offer is a 30% premium.  ACE has $98 billion in assets and wrote more than $23 billion of gross premiums in 2014.
This merger will create the second largest property and casualty insurer in the US.  What's more, the value of this deal pushed the value of industrywide M&A deals to the highest level since 2000.
This could be the starting gun for a major round of M&A activity among property and casualty insurers.  Owning an ETF that holds a wide range of insurance companies could generate some big gains as the industry is shaken up.
We're already seeing M&A activity sweep through the health insurance industry.
I'm expecting other insurance companies to merge and drive the entire insurance industry higher.  And here's the best part… these deals will likely happen before the Fed hikes interest rates and the cost of debt goes up.
Here are 2 ETFs with Exposure to Chubb…
iShares U.S. Insurance ETF $IAK and SPDR S&P Insurance ETF $KIE are two ETFs with a large weighting toward CB and focused on the insurance industry.
CB is the 6th largest holding in IAK.  It accounts for 4.71% of the ETF.  It has an expense ratio of 0.45%.  It's up 1.7% over the last month.
KIE has a 2.50% weighting of CB. That makes CB the largest holding in KIE right now.  This ETF has an expense ratio of 0.35%.  It's up 0.8% over the last month.
Other Holdings Of ETFs with Chubb…
IAK and KIE have significantly different holdings for two ETFs tracking the same industry.
IAK tracks the Dow Jones United States Select Insurance Index.  It includes CB and 64 other insurance companies that are weighted according to market capitalization.
KIE also tracks an index of insurance companies.  However, there are only 51 other stocks in this ETF along with CB.  What's more, the stocks are equally weighted in this ETF.
A look at the recent performance shows that KIE is up 11.8% over the last year.  IAK is only up 9.8% over the same time frame.  In other words, the equally weighted ETF is outperforming the market cap weighted ETF.
Don't forget, an equal weighting methodology allows smaller companies to have a bigger influence on the ETF than ones that use a market cap weighting.  These smaller insurers are the ones that should benefit from M&A activity.
As a result, KIE should continue to outperform IAK as more mergers and acquisitions sweep through the industry.
Other ETFs With Chubb Holdings…
There are plenty more ETFs with exposure to CB.  In fact, I see 83 ETFs that hold CB when I use an ETF screener for ETFs with exposure to CB.  
P.S. I've shown my Sector ETF Trader readers dozens of ways to profit from M&A activity when these ETFs are trading at absurdly cheap prices. You can click here for details on how to access my research.
Good Investing,
Corey Williams
Note: Corey Williams writes and edits ETFTradingResearch.com.  Sign up for our free ETF reports and free e-letter at http://www.etftradingresearch.com/free-sign-up.  We're devoted to helping you make more money from ETFs.
Category: What's Going On?