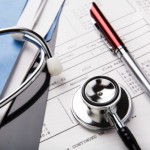 So far this year, mid-cap stocks are the best performing US stocks.  And mid-cap stock ETFs are following suit.
In fact, the SPDR MidCap 400 $MDY gains of 6.4% this year are double those of the S&P 500 $SPY that's up 3.2%.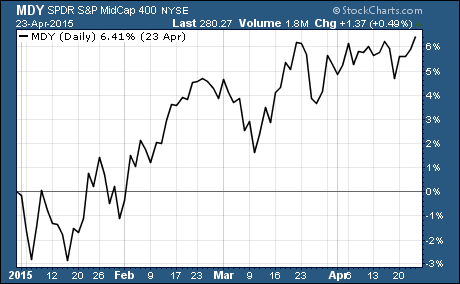 Mid-cap stocks are typically thought of as stocks that have a market capitalization of more than $2 billion but less than $10 billion.   And there are more than 60 ETFs focused on mid-cap stocks.
You can use an ETF screener to find all of them. 
Why Are Mid-Cap Stock ETFs Outperforming?
I took a closer look at what mid-cap stocks are causing them to outperform their large-cap brethren.  And I didn't have to look far.
The nine best performing mid-cap stocks all have one thing in common… they're tied to healthcare.  And it didn't stop there…
Amazingly, 17 of the 20 best performing mid-cap stocks this year are in healthcare.  And the vast majority of those are biotech or drug manufacturers.
This includes stocks like Esperion Therapeutics $ESPR that's up an eye-popping 641% this year as well as Dyax $DYAX that has doubled in value year-to-date.
That gives investors who want to cash in on the outperformance of mid-cap stocks a few choices.
Choosing The Right Mid-Cap Stock ETFs
One way to view the outperformance of mid-cap stocks is that mid-cap growth stocks are hot.  Not surprisingly, there are ETFs that focus on mid-cap growth stocks.
The Guggenheim S&P Midcap 400 Pure Growth $RFG is up 10.9% this year.  This ETF only holds stocks from the S&P MidCap 400 with strong growth characteristics.
Another way to view it is that biotechnology stocks are the place for investors to find the best performing mid-cap stocks.
The SPDR S&P Biotech ETF $XBI is a good way to get exposure to lots of biotech stocks.  It holds 70 stocks that are equally weighted.
Equal weighting is great for investors looking to get exposure to mid-cap stocks.
It means that every stock has the same impact on the ETF regardless of the market cap.  So, mid-cap stocks have a much bigger impact on equally weighted ETFs than they do on ETFs that are weighted according to market capitalization.
Expense Ratios Of Mid-Cap Stock ETFs 
One thing you should always keep in mind when evaluating which ETF to buy is the expense ratio.  This is how much money the ETF provider charges investors to own the ETF.
All else being equal, an ETF with lower expenses is better than an ETF with higher expenses.
RFG has an expense ratio of 0.35%.  This is slightly above average for ETFs.  But it's better than the average expense of other ETFs that focus on mid-cap stocks.
XBI's expense ratio is also 0.35%.  Again, this is slightly above average but nothing that should scare you away from investing in XBI.  What's more, the average expense ratio among biotech ETFs is 0.47%.  So, it's cheaper than most ETFs that focus on biotech stocks.
One thing's for sure, mid-cap stocks are one area of the market that are performing well this year.  You can use $RFG or $XBI to easily add exposure to these stocks.
Good Investing,
Corey Williams
Note: Corey Williams writes and edits ETFTradingResearch.com.   Sign up for our free ETF reports and free e-letter at http://www.etftradingresearch.com/free-sign-up. We're devoted to helping you make more money from ETFs.
Category: Sector ETFs