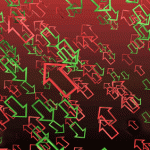 Looking at the recent ETF flows, it appears that investors are getting a head start on their 'Sell in May and Go Away' strategy this year.
Fund flows are a valuable indicator of what traders are thinking.  It takes a lot of buying or selling to drive millions or even billions of dollars into or out of individual ETFs.
Fund flows are something traders use to find trends and gauge investor sentiment.  And it can help you pinpoint which ETFs could be next to make a big move higher or lower.
Last week the SPDR S&P 500 (SPY) led all ETFs with $2.3 billion in outflows.  That brings the two week total outflow to $4.6 billion.
The large outflows from the most popular large cap US stock ETF are a clear indication the stock market is losing momentum. 
What's more, now we have technical proof of the loss of momentum…
Friday's selloff caused SPY to make its first significant lower higher since last June.  The high point of the most recent rally topped out at $188.39.  It failed to reach or exceed the high from April 4th of $189.70.
This type of chart pattern often shows up during a topping phase.  And it usually leads to a correction for the market.
Obviously, the fundamental data could change things… after all, we are in the midst of quarterly earnings and we have a boatload of economic data coming out this week.
If corporate earnings and economic data fail to 'wow' investors – the path of least resistance for SPY and the entire US stock market is down.
One ETF investors put money into last week was the iShares Russell 2000 (IWM).  It had net inflows of $488 million.
Here's the thing that separates the small cap ETF, IWM, from the large cap ETF, SPY…
IWM has experienced a larger correction than SPY.  Right now, SPY is only about 2% below the 52-week high while IWM is more than 8% below its 52-week high. 
More importantly, IWM has fallen back to support of the 200-day moving average. 
This long-term moving average is the brick wall of moving averages.  This key technical support zone almost always stops a rally or a selloff dead in its tracks.
IWM has been above the 200-day moving average since November 28th of 2012.  It would be very unusual to see IWM fall below this support zone without some sort of bounce after being above it for such a long period of time. 
The inflow of money into IWM at the 200-day moving average is clearly a big bet that this support zone will hold. 
That wraps up this week's ETF fund flows…
Keep in mind, there's a lot of information about ETF fund flows.  And it can be a very useful tool as long as you know what you're looking for.
Good Investing,
Corey Williams
Category: ETFs, Market Analysis