Stocks have enjoyed a nice move to the upside this year as the economy improves, interest rates remain low, corporate earnings are strong, and stock buybacks have expanded.
Coming into this week, investors' risk appetite hadn't changed much over the last few months. Investors are positioning themselves for an upturn in economic growth.
And last week's strong jobs data gave them even more reason to be bullish about the US economy. June payrolls increased by 288,000 jobs and the unemployment rate ticked down to 6.1%.
Not surprisingly, investors continue to buy cyclical stocks that will benefit the most from a better economy. And at the same time, they've been steering clear of defensive sectors.
The bullish momentum in cyclical stocks even spilled over and helped revive the bullishness in momentum stocks that had taken the brunt of the selloff earlier this year.
But the mood on Wall Street soured this week as traders resumed their posts after the long holiday weekend. And sellers seemed to appear out of nowhere.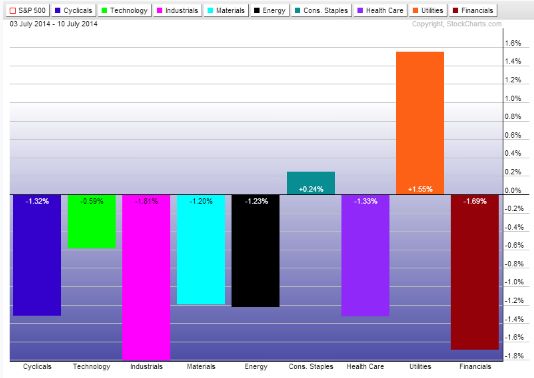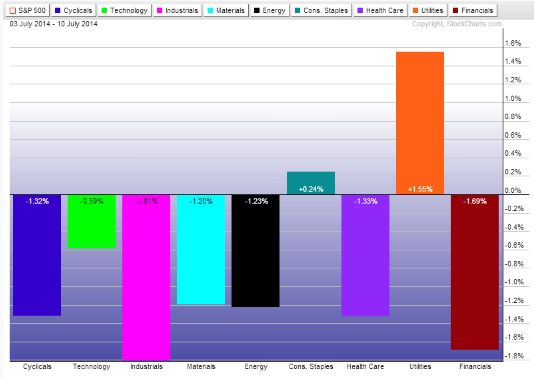 As you can see, every sector but the defensive consumer staples and utilities sectors are down over the last week. This is a clear indication that investors are taking risk off the table.
But are utilities stocks really safe?
The Utilities Select Sector SPDR (XLU) is now up a whopping 15.6% year-to-date. It's vastly outperforming the S&P 500's 7.3% gain so far this year.
XLU has gained an advantage over the S&P 500 due to utilities sensitivity to interest rates. Many utilities have taken advantage over ultra-low interest rates to improve their balance sheets and boost earnings.
What's more, XLU's 3.29% annual dividend yield is very attractive compared to the S&P 500's 1.85% dividend yield. And it's even juicier when compared to other income producing safe havens like US Treasuries.
Given those facts, it's not surprising to see income hungry investors flocking to utilities.
Here's the thing…
The influx of money into the utilities sector has boosted stock prices into overvalued territory. And any time an assets valuation is stretched, it bears the risk of a correction.
It simply doesn't matter if utilities are considered a safe haven. If valuations are too rich, the market finds a way to bring them back in line.
Over the long run, I think XLU is a great ETF for investors looking for income. But right now isn't the time to buy. Wait for a correction to alleviate these stretched valuations before pulling the trigger.
Good Investing,
Corey Williams
Category: ETFs, Sector ETFs, What's Going On?