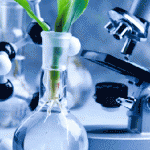 The best performing industry of 2014 was biotechnology. And I believe a biotech ETF is the best way for most people to invest in biotech stocks.
Here's why…
New treatments for cancer, diabetes, and many other diseases have driven tremendous sales growth. At the same time, mergers and acquisitions have helped push industry profits to new heights.
What's more, macro trends like an aging population and an increasing number of people with health insurance coverage are also helpful for biotech stocks.
The bullish outlook for biotech stocks is enough for any growth investor to sit up and take notice. But here's the thing…
How do you figure out which biotech stocks to invest in?
I used a stock screener to look for all the stocks in the biotech industry. And it came back with 288 biotech stocks that are traded on the US markets… and that doesn't include the OTC or pink sheet stocks.
And get this, 241 of them are rated a buy by an analyst!
Obviously, most people aren't going to be able to buy a few hundred biotech stocks. The transaction costs alone would cost you a small fortune.
In my opinion, this is a perfect situation to use a biotech ETF to get exposure to the entire industry.
The king of the biotech ETF hill…
One ETF stands head and shoulder above other biotech ETFs in terms of assets.
The iShares Nasdaq Biotechnology ETF (IBB) has more than $7 billion in assets under management. That's more than all of the assets in the other US listed biotech ETFs combined.
As the name suggests, IBB invests in stocks on the NASDAQ that are classified as biotech stocks. In order to be included in the ETF, the stock must have a market cap of at least $200 million and average daily trading volume of 100,000 shares.
IBB currently holds 154 biotech stocks. The weighting of the stocks is determined by market cap.
Needless to say, IBB is a very popular biotech ETF among investors. And it's a good way to get exposure the entire biotechnology industry.
My Favorite biotech ETF… 
My favorite biotech ETF is First Trust NYSE Arca Biotechnology Index Fund (FBT).
I have recommended FBT to subscribers of the Sector ETF Trader many times over the last several years. We have bought and sold it for a profit many times over the last five years.
This biotech ETF is a little different than IBB. It tracks a much smaller index of biotech stocks. It only holds 30 biotech stocks at all times. And those stocks are equally weighted.
In other words, FBT gives you exposure to a small group of biotech stocks. And each has an equal weight so that each stock's performance has a big impact on the overall performance of the ETF.
The new biotech ETF… 
ALPS Medical Breakthroughs ETF (SBIO) is a new biotech ETF with an interesting spin on biotech ETF investing.
SBIO is made up of biotech stocks with a market between $200 million and $5 billion. But in order to be included in the ETF, the company must have one or more drugs in Phase II or Phase III clinical trials.
Obviously, these are the biotech stocks on the cutting edge of drug development. And positive clinical trial results can send the stock soaring sky high. On the other hand, poor clinical trial results often have a devastating effect on the stock price.
SBIO offers a compelling investment opportunity for investors looking to invest in research and development stage biotech stocks. However, it remains to be seen if an ETF that tracks an index of all biotech stocks with a drug in clinical trials will be successful.
As you may know, most clinical drug trials aren't successful. So, there's bound to be more stocks that are losers than there are winners.
The only way SBIO will be successful is if the percentage gain of the smaller number of winners is greater than the losses sustained by the majority of the holdings.
One thing's for sure, I'll be watching SBIO closely to see how it performs.
Good Investing,
Corey Williams
ETF Trading Research
Note: Corey Williams writes and edits ETFTradingResearch.com. Sign up for our free ETF reports and free e-letter at http://etftradingresearch.com/free-sign-up. We're devoted to helping you make more money from ETFs.
Category: Sector ETFs