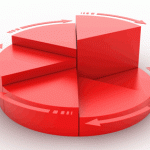 So far this year, the S&P 500 is up a paltry 1%.  But that hasn't stopped investors from racking up gains with Sector ETF Trades.
As you can see, there has been a wide divergence between the winning and losing sectors in the S&P 500.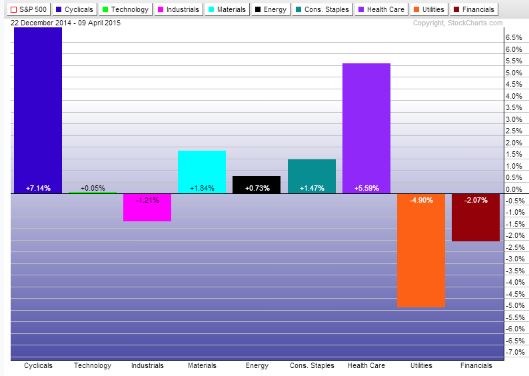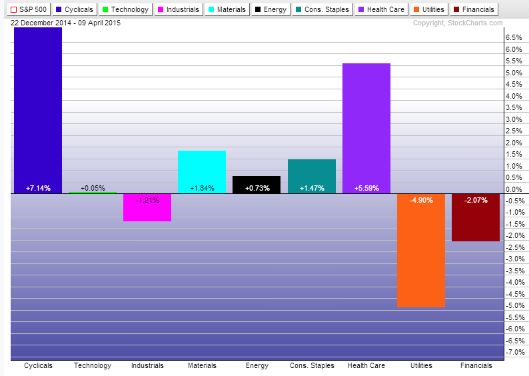 The top performing consumer discretionary sector is up more than 7% this year while the utilities sector is down nearly 5%.
First Quarter Sector ETF Trades
The first quarter of 2015 is in the books.
As I've pointed out before, the economic fallout from the drop in oil prices isn't completely understood at this point.
Sure, it's good for consumers when oil prices go down.  But the ramp up of US oil production has been one of the primary drivers of the US economy in recent years.
The dramatic drop in oil prices is triggering layoffs at oil companies and all of the other companies that were catering to the oil business.  There's still more pain to come here.
The recent economic data has highlighted just how little some economists understand about the economy.  It's simply stunning how wrong these guys are more often than not.
They simply extrapolate what has been happening over the past few quarters out into the future.  And the Fed is full of these same economists that don't have a clue how to use common sense is setting monetary policy.
We're also seeing the Fed beat a hasty retreat back to a much more dovish commentary on interest rates after the latest jobs data.
Their hawkish talk on interest rates was clearly a bit premature given the weakness in the global economy, strength of the US Dollar, and lack of real wage growth in the US.
3 Sector ETF Trades We Took Profits On
Nevertheless, subscribers to Sector ETF Trader were able to capture double digit profits on 3 trades in the first quarter.
We sold Market Vectors Retail ETF $RTH on February 6th for a gain of 18.8% after holding the ETF for about 3 months…
We sold Powershares Dynamic Media Portfolio $PBS on February 17th for a gain of 16.1% after holding it for 17 months…
And we sold First Trust Health Care Alpha Dex Fund $FXH on February 27th for a gain of 17.8% after holding it for 6 months.
What's more, we have several ETFs we're still holding that continue to rack up gains.
Which ETF Will Be The Next Profitable Sector ETF Trade? 
Identifying industries with positive macroeconomic themes is a critical part of the Sector ETF Trader strategy.  And we certainly found a big winner with Solar Energy ETFs.
Sector ETF Trader identifies high-return potential ETFs based on a number of macro, fundamental, and technical indicators.  These indicators offer you the opportunity to participate in some very large moves in a relatively short amount of time.
And because it focuses on ETFs, you get the advantages of both stocks and mutual funds, without the problems of high fees and over-concentration.
Rather than taking a 'shotgun' approach to the market, I use a time-tested system like a scalpel to carve out those 'hidden gems' with the greatest chance of spectacular profits.
You can develop an ETF trading system like mine or you can let me do the heaving lifting for you.
A new issue of the Sector ETF Trader is coming out tomorrow.  So take action now to avoid missing out.  Click this link to find out more about this easy method to identifying the most profitable sector ETFs around!
Good Investing,
Corey Williams
Note: Corey Williams writes and edits ETFTradingResearch.com.   Sign up for our free ETF reports and free e-letter at http://www.etftradingresearch.com/free-sign-up. We're devoted to helping you make more money from ETFs.
Category: Sector ETFs